Is The Missing 33%™ Still Missing?
Audiences often wonder if The Missing 33% research is still relevant, after all, it began in 2000. Well...
A study jointly published in November, 2016 by PR firm MWWPR and Wakefield Research reports that "When Americans were asked about the skills that are most often the yardstick for judging leadership performance and personal career success, the overwhelming majority give men the upper hand. More than three-quarters of respondents describe men as being stronger at
delivering financial returns (83 percent) - O and
developing business strategy (79 percent). -

O

More than two-thirds believe women are the weaker sex when it comes to negotiation (69 percent) - E.
Not surprisingly, respondents give women the edge in "soft skills", but by smaller margins. Slightly less than half of those surveyed (45 percent) describe women as better than men at managing people - E, and
59 percent give women the advantage in managing work-life balance - P.
And in related research,
A comprehensive review of feature and profile coverage of Fortune 500 CEOs reveals differences in the interest and focus of media coverage based on gender:
"Work/life Balance" is three times more likely to be discussed in coverage of female CEOs compared to their male counterparts (NOTE: this has been a constant source of frustration to us at Leading Women, thanks for pointing it out!)
While "Business Strategy" is a top topic in both male and female coverage, it is a more frequent topic in male coverage (referenced in 67% of male CEO coverage vs. 47% of female CEO coverage)
Female CEO coverage is just as likely to reference their "Experience as a 'Woman' Leader" as it is to mention their "Business Strategy"
By playing into to the stereotypes in these ways, the media continues to perpetuate them. Another example of how mindsets create challenges for women.
Post U.S. Election Commentary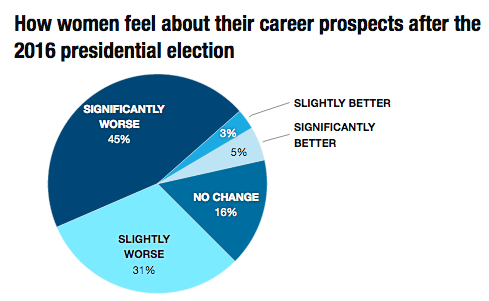 I was devastated by Hillary's loss, but am heartened by the fact that over 70 million people voted against Trump (compared to the 61.5 million votes he received). I take heart because it means that he is not us.

However, with Republicans controlling both houses and given Trump's comments on and actions toward women, it's not surprising that the prevailing sentiment among professional women in the U.S is worry.
So, what's the remedy? Stay focused on what matters to you and take action - especially write to your legislators. As Hillary Clinton said at a post-election event:
"Service is the rent we pay for living. You don't get to stop paying rent just because things didn't go your way."
Stop Asking Candidates about their Salary Expectations - Actions to Close the Wage Gap
At Leading Women, we've long said that companies (not women) bear the blame for the wage gap. After all, it's companies that get sued for this form of discrimination. Here's why employers should ban the practice of asking candidates about their salary expectations.
"Ziprecruiter, a company that lets employers post job listings across multiple job boards in the US, tried to quantify how women view their own worth in the workplace. It picked 400,000 job seekers from its site and divided them by gender. It then compared application rates and desired salaries by both region and industry. It found that men wanted to be paid more than women—on average, $11,103.65 more."
Please ignore the title of the article, but take the point. If you're leading your company's women's initiative, your recruitment function should stop asking about salary expectations.
And your HR department should be conducting frequent wage equity audits and making relevant adjustments. Because
"Things are getting better—sort of. Research conducted in 2013-14 by Cass Business School (pdf) showed that women asked for raises just as often as men. But they were still less likely to get them."
Cheers for State of Massachusetts and others that have made this practice illegal or unacceptable.
Another CEO Makes the Business Case
Qantas CEO Alan Joyce (whose executive team includes 3 women out of 11), who is a member of Australia's Male Champions of Change says:
"The case for diversity is really clear. We can see the difference that a diverse group of people have made in our transformation....By having good debates, good discussion and a diversity of thought, you are identifying a better and bigger strategy — you can identify the risks around your strategy better."
He also argues that promoting diversity allows access to a broader talent pool.
"Good talent is hard to get. So if you are seen as a diverse company which is attracting the best people, whatever their gender or sexual orientation or racial background, you are fishing in a bigger pool than other businesses."
Thanks, Alan for your actions within Qantas, for speaking out and for your leadership as a Male Champion of Change.
Lead ON!
Susan
Susan L. Colantuono, CEO
+1-401-789-0441

Author: No Ceiling, No Walls and Make the Most of Mentoring
"Leadership is using the greatness in you to achieve and sustain extraordinary outcomes by engaging the greatness in others."
Susan L. Colantuono
Closing the Gender Gap: TED.com
---