On a timely basis we curate fabulous articles about closing the leadership gender gap on our Facebook page, LinkedIn Leading Women group and company page, and also Tweet them out.
We then share the the best of the best here on our blog!
The Science of the Job Search, Part VII: You Only Need 50% of Job "Requirements"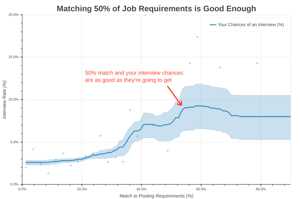 Talent Works
We've been saying this for years, when you're out looking for the perfect job, don't be intimidated by a long list of requirements! --Susan
"We were curious about how many job requirements are actually required, so we analyzed job postings and resumes for 6,000+ applications across 118 industries from our database of users. We found that while matching requirements is important, you don't necessarily need to match all of them.
Your chances of getting an interview start to go up once you meet about 40% of job requirements.
You're not any more likely to get an interview matching 90% of job requirements compared to matching just 50%.
For women, these numbers are about 10% lower

i.e. women's interview chances go up once they meet 30% of job requirements, and matching 40% of job requirements is as good as matching 90% for women."
Elizabeth Rowe has sued the BSO.
Her case could change how
orchestras pay men and women.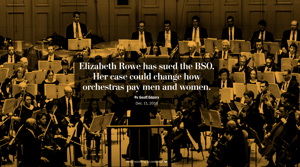 Washington Post
"Principal flutist Elizabeth Rowe sits next to principal oboist John Ferrillo. She's paid $64,451 less than him a year."
A star flutist has sued the Boston Symphony Orchestra. Her case could change how orchestras pay men and women."
Movies Starring Women Earn More Than Male-Led Films, Study Finds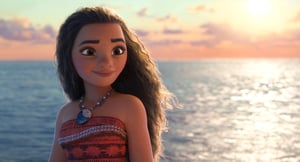 The New York Times
"According to findings from the Creative Artists Agency and shift7, a company started by the former United States chief technology officer Megan Smith, the top movies from 2014 to 2017 starring women earned more than male-led films, whether they were made for less than $10 million or for $100 million or more.
The research also found that films that passed the Bechdel test — which measures whether two female characters have a conversation about something other than a man — outperformed those that flunked it."
Lost Mothers: "Landmark" Maternal Health Legislation Clears Major Hurdle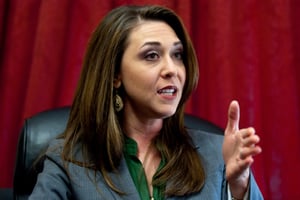 ProPublica
"Ethiopia's prime minister Abiy Ahmed is rewarding women's contributions to the nation's progress.
In a cabinet reshuffle on Tuesday (Oct. 16), Abiy cut the number of ministries from 28 to 20 and named 10 women among the new appointees. Women will now run key dockets including defense, trade, transport, and the newly-established ministry of peace that will tackle the wave of ethnic violence that has swept the country. Abiy said the move was meant to "show respect" to the women's participation in nation-building and to "disprove the adage that women can't lead.""
Nevada Becomes the First U.S. State With a Female-Majority Legislature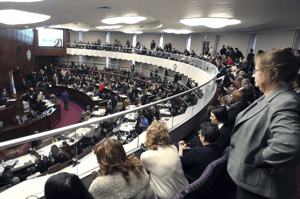 TIME
"Nevada became the first state in the U.S. with an overall female majority in the Legislature on Tuesday when county officials in Las Vegas appointed two women to fill vacancies in the state Assembly.
The appointments of Democrats Rochelle Thuy Nguyen and Beatrice "Bea" Angela Duran to two Las Vegas-area legislative seats give women 51 percent of the 63 seats in the Legislature.
Women will hold nine of 21 seats in the state Senate, falling short of a majority in that chamber. But they will hold 23 of 42 seats in the Assembly, comprising 55 percent in that chamber and giving women enough numbers to make the two chambers an overall female majority."
Women in Rare Company Accept Nobel Prizes in Physics and Chemistry
The New York Times
"For the first time, female scientists had won the Nobel Prizes in Chemistry and Physics. And on Monday, they accepted their accolades at the same award ceremony in Stockholm.
For Donna Strickland, receiving the call two months ago that she had won the physics prize is the only feeling that can compare, she said, to the moment when she had her scientific breakthrough."