On a timely basis we curate fabulous articles about closing the leadership gender gap on our Facebook page, LinkedIn Leading Women group and company page, and also Tweet them out.
We then share the the best of the best here on our blog!
Leadership Changes @ Leading Women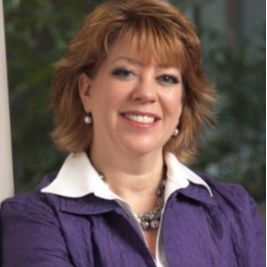 Leading Women
"Susan Colantuono, Founder & CEO of Leading Women, the world's premier consulting firm for bringing Gender Balance to corporate leadership, is pleased to announce the promotion of Kelly Lockwood Primus to President & COO. Effective immediately, Kelly, who has been SVP of Strategic Client Solutions since 2013, will take over the helm of Leading Women as Susan shifts her focus to the development of new research and solutions utilized in the intellectual property, which has made Leading Women the cutting-edge resource it has become. As President and COO, Kelly will oversee day-to-day operations, business development and client relationship management..."
At the UAE gender equality awards, all the winners were men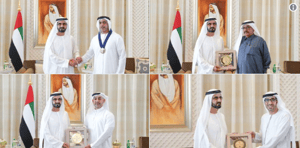 Washington Post
Leading Women moderated a session on gender diversity in Dubai at The Government Summit when they announced the formation of the UAE's Gender Balance Council in 2015. Looks like we need to make another trip...
"The United Arab Emirates drew mockery this weekend after announcing the winners of its gender balance awards — every one of whom was a man.
At an awards ceremony Sunday, the UAE named the winners of its Gender Balance Index for the second round of 2018 in three categories: best personality supporting gender balance, best federal authority supporting gender balance and the best gender balance initiative..."
Women Are on Track to Earn the Same as Men -- in 202 Years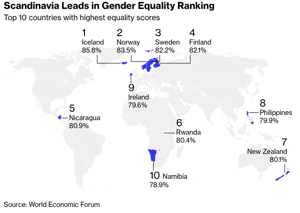 Bloomberg
"The good news: The global gender gap has improved, slightly. The reality: Differences in economic opportunity, including pay between men and women, are so vast it'll take 202 years to fully bridge them, according to the World Economic Forum.
The group looks at several measures of equality between men and women in this year's Global Gender Gap Report, released Tuesday. Overall gender disparity across politics, work, health and education improved by less than 0.1 percent, meaning it'll take 108 years to reach parity. The economic opportunity gap -- based on participation, pay and advancement in the workforce -- remains the area that'll take the longest time to close.
The figures are a tiny improvement from last year's results, where the gap between the achievements and well-being of men and women widened for the first time in more than a decade..."
CALIFORNIA'S FIRST SURGEON GENERAL IS A BLACK WOMAN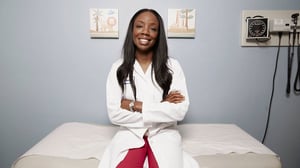 BOTWC
"Dr. Nadine Burke Harris has just been appointed as California's first-ever Surgeon General. Governor Gavin Newsom announced the news on Monday. According to NBC News, Newsom said in a news release that Harris "will focus on combating the root causes of serious health conditions and use her office to reach young families across the state." ..."
TED Playlist: How to be a good mentor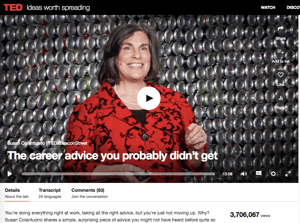 TED
January is National Mentoring Month (#NaMeMo) in the United States and we are honored to have Susan Colantuono's talk, The career advice you probably didn't get, featured on this curated list on the TED website.
"How companies use women and minorities as window dressing.
...What's going on here? The obvious explanation is that corporations have been quick to seize the public relations aspect of diversity. Most proxy statements now contain director candidates' pictures in addition to biographies. Having a diverse group indicates the corporation's open-mindedness, expansive view of the world and willingness to grapple with all its complexity. It signals that a firm embraces equal opportunity, which may mollify activist shareholders who vote for directors. Organizations compete to be selected as one of the top 50 companies by DiversityInc, the premier publication of its kind. Winners are invited to a celebratory Wall Street dinner, the firms are given free publicity on the DiversityInc website, and a report stacks them up against each other..."