On a timely basis we curate fabulous articles about Diversity, Equity & Inclusion on our Instagram, Facebook page, LinkedIn Leading NOW group and company page, and also Tweet them out.
We then share the the best of the best here on our blog!
WIA announces agenda for in-person event
World-Grain.com

We are excited to be a part of the Women in Agribusiness Summit next month. Come see us in action - Registration now open.
"The 10th anniversary the Women in Agribusiness Summit (WIA) in-person conference Sept. 21-23 at the Hyatt Regency Minneapolis in Minneapolis, Minnesota, US, will feature a robust agenda, expert speakers, plenty of networking and a special off-site reception.
Opening speaker Kelly Lockwood Primus, chief executive officer of Leading NOW, will start the business discussion with "The Career Advice You Probably Didn't Get." This presentation will include Leading NOW's research on women's leadership, what's missing from conventional career advice and the barriers women face in achieving executive positions."
How Reverse Mentoring Helped Collins Aerospace Become More Inclusive

Leading NOW
When Collins Aerospace, a unit of Raytheon Technologies (Raytheon has 181,000 employees and 61,000 engineers), recognized their organization's culture was not inclusive for women in leadership roles, they reached out to Leading Women for our expertise and advice.
After having exploratory conversations to better understand the Gender Dynamics at play in the organization, the challenge at Collins became clear––while those in the C-suite were champions for inclusion, support from senior leadership was not as strong.
Based on Leading NOW's research on the mindsets that impact senior leaders' decisions, influences their actions, and lead to often unintended consequences and a lack of women in leadership, we were able to help solve this issue by putting a structured Reverse Mentoring program in place.
Read ON! to learn more about the Collins Aerospace case study and its success.
Where To Look When Employee Turnover Rates Start Climbing

Forbes
8. Trends Within Data And Demographics
Analyze data and demographics. Who are the people leaving and what, if any, demographics do they share (age, ethnicity, gender)? Is this a trend for this population? Is it a specific business unit or leader that has a larger-than-average attrition rate? All of this speaks to the organization's culture and leadership. Second, are there exit interviews? What can you learn from them?
Meghan launches work initiative for women on 40th birthday

The Guardian
40x40 project encourages people to donate 40 minutes of their time to help women return to workplace
"... "Over 2 million in the US alone and tens of millions around the world have lost their jobs due to Covid, and I think if we all do it and all commit 40 minutes to some sort of act of service we can create a ripple effect."
Meghan was joined by celebrity friends and activists for the launch, some of whom said they would be giving 40 minutes of their own time to help a woman in their community. Among them were Adele, Sophie Grégoire Trudeau and Stella McCartney.
The duchess has written a statement explaining the new initiative on the website of the couple's charitable foundation, Archewell. In it she says that when reflecting on turning 40, she was struck that time is "among our greatest and most essential gifts" especially "time spent in service to others".
She goes on to say that research has shown fewer women than men will return to work as the recovery begins. She adds she believes "mentorship is one way to help women regain confidence and rebuild their economic strength". She says she hopes that through the project "countless" women will be inspired to give 40 minutes of their time to others. ..."
Many Black women felt relieved to work from home, free from microaggressions. Now they're told to come back.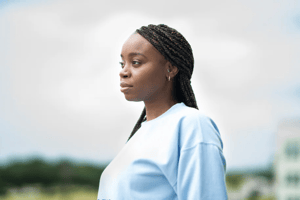 Washington Post
"... After seven years of corporate life, Mary Smith had a routine: putting extra effort into her hair (so as to not appear too Black) and her demeanor (ditto) and her clothes (you can probably guess).
But once she got a taste of the work-from-home life during the pandemic, Smith knew she could never go back. Her scalp was free from constraining hairstyles, and she could disappear from the screen if a colleague said something insulting.
A few months ago, her employer asked her to begin the transition back to in-person work. So she quit. "I was just very strongly against that," said the 29-year-old project manager in Irving, Tex.
After the coronavirus sent millions of employees home, many Black women experienced a workday free of the micro- and macroaggressions that followed them at their predominantly White workplaces. They had the privacy to grieve the countless deaths that led to the racial unrest of last summer — without having to pretend to be okay for the comfort of their colleagues. And, naturally, many don't want to return. ..."
Equal Pay Day - Black Women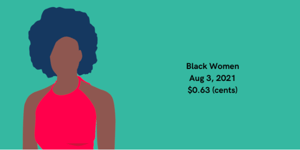 Equal Pay Today
"... Black Women's Equal Pay Day is the approximate day a Black woman must work into the new year to make what white non-Hispanic man made at the end of the previous year. Based on ACS Census data, the 2021 wage gap for Black women compared to non-Hispanic white men is $0.63 (cents). ..."After seven years of corporate life, Mary Smith had a routine: putting extra effort into her hair (so as to not appear too Black) and her demeanor (ditto) and her clothes (you can probably guess).
WAGE GAP BY DEMOGRAPHIC
Why Black women's wage gap is a problem for everyone

Fortune
"... On Tuesday [August 3], the average Black woman will have finally earned the same amount as the average non-Hispanic white man earned a year earlier—eight months later. That's a problem, not just for Black women—who lose out on $900,000 in lifetime earnings—but for everyone, say experts on equal pay.
For Black women, of whom many are the primary breadwinners of their households, the pay gap of 63 cents on the dollar represents more than just a loss of money, said Shannon Williams, the director of Equal Pay Today, a project of Equal Rights Advocates. Experts are reflecting on this wage gap on the date known as Black Women's Equal Pay Day, which comes four months after Equal Pay Day, averaged for all women, reflecting the larger pay gap Black women face.
"The issue of equal pay is not just a woman's issue because it trickles down into our families and into our communities, and it trickles down into our overall economy," Williams said. ..."
SEC approves Nasdaq's plan to require board diversity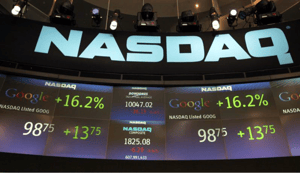 AP
"... The new policy — the first of its kind for a U.S. securities exchange — requires most of the nearly 3,000 companies listed on Nasdaq to have at least one woman on their board of directors, along with one person from a racial minority or who identifies as gay, lesbian, bisexual, transgender or queer. It also requires companies to publicly disclose statistics on the demographic composition of their boards.
"These rules will allow investors to gain a better understanding of Nasdaq-listed companies' approach to board diversity, while ensuring that those companies have the flexibility to make decisions that best serve their shareholders," SEC Chair Gary Gensler said in a statement accompanying the decision. ..."
Building Inclusive Cultures to Drive Business Outcomes
Leading NOW
Leadership Lessons from Women Leaders
Leading Women