On a timely basis we curate fabulous articles about closing the leadership gender gap on our Facebook page, LinkedIn Leading Women group and company page, and also Tweet them out.
We then share the the best of the best here on our blog!
What are your plans for International Women's Day?
Leading Women
Partner with a Leading Women Expert to Help Your Organization #ChooseToChallenge
Nearly 3 million women exited the workforce in the US in 2020 due to Covid-19 - which means this year's International Women's Day (March 8th) can't quite celebrate achievement without acknowledging the significant amount of work still to do. And since we are navigating unprecedented times, we must call on unprecedented actions that #choosetochallenge the barriers to diversity, equity, and inclusion.
Is your organization ready to #choosetochallenge:
Definition of leadership that focuses on personal greatness and not business outcomes
Gender stereotypes creating barriers to progression
Traditional approaches to mentoring and how it looks different for men than women
If You're a Manager and Too Busy for These 4 Things, It May Be Time for a Tune-Up
We've been dong this sort of evaluation for 15+ years - if you and/or your organization would like to see how you stack up, contact us!
"...The report found 89 percent of respondents who would recommend their manager also reported being very engaged at work. However, despite the importance of effective management in keeping employees engaged, just over a third (37 percent) of managers actually received the training they needed to support their direct reports.
As employers begin to implement their 2021 hiring and retention strategies, how can they ensure the backbone of the organization -- their managers -- are supporting their employees and keeping engagement and retention numbers high?..."

Leading NOW
A Catalyst for an Inclusive Culture
We all know that mentorship can help pave the way for career success on the road to leadership. We also know that leaders drive culture. But for a culture to truly be inclusive, leaders must model inclusivity in all that they do. For organizations and leaders who recognize the value of creating an inclusive culture, but struggle to fundamentally shift their culture to one of inclusion for all, one proven and profound method is a formalized Reverse Mentoring program. Reverse Mentoring enables people in more senior positions to gain insight from having regular, semi-structured conversations with team members who are likely to see the world from a different perspective. The process aids in better decision-making, higher retention rates for diverse talent through greater job satisfaction, and giving invaluable exposure to under-represented talent, nurturing allies and advocates within senior ranks.
Simply put, Reverse Mentoring is really about inclusion. In addition to having a positive impact on your company's culture, Reverse Mentoring will liberate the power of all humans to generate the desired business outcomes needed to compete in today's business environment...
Nasdaq to Advance Diversity through New Proposed Listing Requirements

Nasdaq
"...

The goal of

the

proposal

is to provide stakeholders with a better understanding of the company's current board composition and enhance investor confidence that all listed companies are considering diversity in the context of selecting directors, either by including at least two diverse directors on their boards or by explaining their rationale for not meeting that objective. As part of rationale for the new requirements, Nasdaq's proposal presents an analysis of over two dozen studies that found an association between diverse boards and better financial performance and corporate governance.

..."
Walgreens Poaches Starbucks Executive Rosalind Brewer for CEO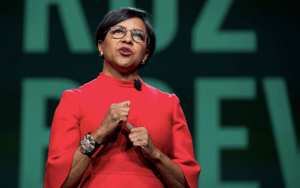 The Wall Street Journal
Brewer to be the only Black woman leading a Fortune 500 company
'... Walgreens Boots Alliance Inc. named Starbucks Corp. operating chief Rosalind Brewer as its next chief executive, setting her up to be the only Black woman leading a Fortune 500 company today.
Ms. Brewer will replace Stefano Pessina, who said in July that he would step down as CEO once the drugstore company found a new leader. Mr. Pessina, one of Walgreens' biggest individual investors, will stay on the company's board and serve as executive chairman..."
We need to stop 'untitling' and 'uncredentialing' professional women
Fast Company
"...Omitting titles for women while using them for men diminishes women's perceived authority and credibility. Until now there has been no name to describe this phenomenon, making it difficult to draw attention to the problem and nearly impossible to search the internet for information. We propose a new term for this behavior: untitling.
Untitling happens repeatedly to women with professional titles, such as doctors (medical, research, and professional), professors, clergy, government officials, military personnel, and coaches. Recent research of 321 speaker introductions found that when female physicians introduced other physicians they almost always used their "doctor" titles (for 95% of male doctors and 97.8% of female doctors). However, male physicians introduced other male physicians as "doctor" in 72.4% of the cases, but only 49.2% of the time when introducing female physicians..."