On a timely basis we curate fabulous articles about Diversity, Equity & Inclusion on our Instagram, Facebook page, LinkedIn Leading NOW group and company page, and also Tweet them out.
We then share the the best of the best here on our blog!
Learn more about Leading NOW's Inclusive Culture Assessment
Leading NOW

The
Inclusive Culture Assessment
(ICA) goes much deeper than an employee engagement survey and the results from this assessment may be utilized as the baseline from which you can measure the impact of the DEI solutions you employ.
Identifying how your employees experience the Culture, the Leadership, and Equity can provide the guidance needed to identify the barriers to inclusion at your organization.
Leading NOW's
proprietary, research-driven, and field-tested
Inclusive Culture Assessment
(ICA), was created to give companies quantifiable data on their culture, leadership and equity, including a deep understanding of the views of its workforce, and how they experience the organization. This unique assessment tool is designed to provide insights to all sizes of organizations, from small and mid-range, to large global entities.
Women Are Still Suffering More Than Men in Pandemic Job Hit

Bloomberg
Leading NOW can help your organization create and execute a plan to retain and engage your underrepresented talent. Contact us today to learn more!
"... "The inequalities between women and men in the world of work that have been exacerbated during the Covid-19 pandemic will persist in the near future," the ILO said. "Even though the projected jobs growth in 2021 for women exceeds that of men, it will, nonetheless, be insufficient to bring women back to pre-pandemic employment levels." ..."
WIA Keynote: The Career Advice You Probably Didn't Get

Women In Agribusiness
We are proud to announce that Leading NOW's CEO, Kelly Lockwood Primus, will be the keynote speaker at WIA's 10th anniversary Women in Agribusiness Summit, this September 21-23, in Minneapolis. Check out the link to learn more and to register for the event.
"...Kelly Lockwood Primus, CEO of Leading NOW, who is an advisor to global organizations seeking to change mindsets, behaviors, and cultures, will be the keynote speaker at our 10th anniversary Women in Agribusiness Summit, this September 21-23, in Minneapolis.
Lockwood Primus will speak about 'The Career Advice You Probably Didn't Get' and identify nine critical differentiators for moving from middle management into senior and executive positions. The discussion will include Leading NOW's Gender Dynamics Institute's research on women's leadership, what's missing from conventional career advice, and the barriers women face in achieving executive positions. ..."
Women tech leaders more likely to say their first promotion was most pivotal, report finds

BizWomen
"... Two-thirds of men feel very comfortable taking risks and managing ambiguity in their careers, compared to 56% of women who agreed with this. However, this risk tolerance gap was more evident among technologists — leaders in technology, research and development or engineering roles — than among business leaders or sales executives in the tech industry.
"This finding may stem in part from the perceived emphasis on women's technical skills in general, a factor that could make women in highly technical roles more concerned about failing," the report suggested.
Additionally, more men (51%) than women (41%) sought multiple promotions even if they weren't fully qualified. While women turn to family, colleagues or mentors for advice on seeking promotions in these cases, men are more likely to rely on personal confidence alone.
Multiple women credited a boss, spouse or someone else who encouraged them to pursue the next step on the career ladder. ..."
Microaggressions, work stress more manageable for women of color working remotely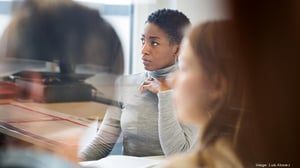 BizWomen
"... "Things like having your hair touched or people commenting on your body, or asking 'Oh what are you eating? It smells weird,'" Courtney McCluney, an assistant professor of organizational behavior at Cornell's ILR School, told The New York Times. "This is why we don't all want to go back into the office."
Slack's Future Forum found 97% of Black professionals working remotely want to go fully remote or have a hybrid work arrangement. While 21% of white workers want to return to the office full-time, just 3% of Black workers said this.
Additionally, once they began working remotely, Black employees' sense of belonging at work increased 50%, and their ability to manage stress rose 64%, Future Forum found, meaning flexible work can be crucial to their feelings of inclusion within a company.
Going forward, 80% of Black workers, 78% of Hispanic workers and 77% of Asian workers want a flexible work arrangement, per Future Forum. Generally, however, Black and Hispanic workers are less likely to have been able to work from home during the pandemic. ..."
Building Inclusive Cultures to Drive Business Outcomes

Leading NOW
Have you seen our latest multi-part series? Check it out here:
Leadership Lessons from Women Leaders,
Part 3:
Women Business Leaders Offer Advice On Filling Your Pipeline With Female Talent
Leading Women
When we asked successful women leaders across all industries what they recommend organizations do to bring more women into senior leadership roles, a common thread from their responses emerged––diversity and inclusion is integral.
In part three of our Leadership Lessons from Women Leaders research series, we share their insights and suggestions, along with a few of our own.
What do you recommend an organization do to bring more women into senior leadership roles?
Read ON!
Part 1: Research Concludes Mentors Are Key To Women's Career Success
Part 2: Does Your Leadership Have The Necessary Trait To Succeed?
Part 3: Women Business Leaders Offer Advice On Filling Your Pipeline With Female Talent
... more to come ...