On a timely basis we curate fabulous articles about Diversity, Equity & Inclusion on our Instagram, Facebook page, LinkedIn Leading NOW group and company page, and also Tweet them out.
We then share the the best of the best here on our blog!
TIME'S UP Care Economy Business Council
TIME'S UP

Leading NOW is proud to be a part of the TIME'S UP Care Economy Business Council, an incredible coalition of hundreds of companies across the US committed to investing in a robust caregiving infrastructure.
"... The Care Economy Business Council is a coalition of large corporations, small businesses, entrepreneurs, and investors that is working with TIME'S UP to:
Shift the cultural narrative around who is responsible for care;
Encourage and enforce equitable practices to support caregivers in their own workplaces and the private sector;

Rally investment in innovative solutions to fix the caregiving crisis; and

Advocate for key public policy interventions to move us towards more fair and equitable workplaces for all.
We are assembling an incredible coalition of companies – spanning every industry – to push for the creation of a comprehensive care infrastructure at this critical moment. Together, we can reimagine the world of care, support caregivers of all kinds, and build workplaces that are more fair and equitable for everyone. ... "
Leading NOW's Center for Diversity & Inclusion Announces Innovative New Tool for Organizations to Assess Culture

Leading NOW
"... Leading NOW, the global advisor to organizations seeking to change mindsets, behaviors, and cultures to be inclusive for all, announces a new online diagnostic cultural assessment tool created by its Center for Diversity & Inclusion. This proprietary, research-driven, and field-tested Inclusive Culture Assessment (ICA), was created to give companies quantifiable data on their culture, leadership and equity, including a deep understanding of the views of its workforce, and how they experience the organization. This unique assessment tool is designed to provide insights to all sizes of organizations, from small and mid-range, to large global entities.
Leading NOW's unique ICA "provides the leadership a unique window into how their employees see diversity in action, and how they experience inclusion at work," says

Usha Pillai

, PhD

and Co-Chair for the

Center for Diversity & Inclusion.
Leading NOW CEO, Kelly Lockwood Primus, says "In the past, companies either randomly chose unconscious bias training programs or used ineffective employee engagement surveys to determine what barriers to inclusion their organization has. Our Inclusive Culture Assessment changes that. Utilizing the client centric results from the assessment, Leading NOW's experts are able to guide the implementation of specific and targeted initiatives, utilize our customized solutions, and deliver successful results for clients seeking to build a culture of inclusion. Used annually, it is an invaluable tool to track the progress and the ROI of their DE&I investment."
Benefits of Leading NOW's ICA include the following measures for Culture, Equity & Leadership:
A heatmap on how your workforce views these three dynamics
A baseline (quantifiable data) that classifies areas of concern
An organizational profile to understand your current state

..."

3 Ways to Shine a Light on Disrespect Towards Women at Work

Michelle Redfern
"... But it is not enough. It is time to shine the light on disrespect towards women in a different direction. Here are 3 key steps for workplace leaders to consider:
1. SHINE THE LIGHT IN A DIFFERENT DIRECTION
The light has been shone at and on women when it comes to gender equality, safety and the experiences women endure in many workplaces for far too long. Like most women, my entire life has been focused on keeping safe. Not walking alone at night. Having keys in hand as a potential weapon against an attacker. Learning how to physically defend myself as a young woman. Using the block function on social media (regularly!)
My male peers have NOT been taught, to the same extent, how to STOP being disrespectful to women. How to NOT attack women. How to NOT belittle and harass women. They simply haven't been expressly educated about what they must NOT do. The burden to be respected has always been on women. So the light is shining the wrong way! ..."
SHOULD WOMEN USE ASSERTIVE LANGUAGE TO GET AHEAD?

The Horizons Tracker
"... The results are interesting as previous work has suggested that people who break gender norms suffer a backlash of some kind, but this didn't materialize in this experiment. Indeed, not only were the female leaders more likely to be followed but they were also found to be no less likable.
At the end of the game, each volunteer was asked whether they thought the gender of a leader would matter. Despite the apparent equality during the exercise, it was still more common for people to believe that others would follow a male leader than a female one, even if their advice was the same.
They were also quizzed on the kind of language they would use themselves if they were leaders in the game. The results suggest men were about 10% more likely to prefer using the most assertive language.
The researchers believe that their findings underline the value women can derive from using more assertive language, and prompts them to wonder why female leaders continue to lean away from it.
"The fact that the subjects expected discrimination suggests that it's hard for people to know when discrimination is going to happen," the researchers conclude. ..."
Louvre Gets Its First Female Leader in 228 Years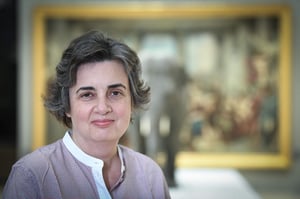 New York Times
"... For the first time since its creation in 1793 in the wake of the French Revolution, the Musée du Louvre will be headed by a woman, Laurence des Cars, the current head of the Musée d'Orsay and the much smaller Musée de l'Orangerie.
Des Cars, 54, was appointed on Wednesday as the museum's president-director by the president of France, Emmanuel Macron.
"Four years at the Orsay gave me this confidence, this crazy idea that I could be the next president of the Louvre," des Cars said in an hourlong telephone interview. "The president probably saw that I was ready for the job and that I am somehow serene. I am not overanxious. I have to stay very calm." ..."."
The Pandemic Has Damaged Women's Careers And Ambitions. Employers Must Rebuild With Gender Equality In Mind

Forbes
"... To help understand the current state of gender equality in the workplace, Deloitte Global surveyed over 5,000 women in 10 countries between November 2020 and March 2021 to get a sense of their experiences in the workplace before and during the pandemic. Our new report, Women @ Work: A global outlook, provides detailed insights into the experiences of working women over the last year, taking an intersectional lens. It also examines the steps taken by some employers to support, retain, and empower the women in their workforce.
Our findings reveal a "perfect storm" of added pressures for working women during the pandemic. 77% of respondents report having had an increase in their workload for paid employment, while 59% are carrying out more domestic tasks. These extra demands on women's time have come at a huge cost, negatively affecting their mental health and dampening their aspirations for the future. Just a third rated their mental wellbeing as "good" or "extremely good" during the pandemic versus 68% before. Over half of respondents said they are feeling less optimistic about their career prospects now than before the pandemic. ..."

Leading NOW
"...In 2020, organizations became acutely aware of the importance of DE&I due to the social unrest and volatility swirling around them. Many are now attempting to figure out how to be supportive of their diverse employee population. What should they put their energy and resources towards that is actually going to have a positive impact? This is THE question that many organizations, regardless of size, are struggling to answer––and few are getting right.
As the CEO of the global advisor, Leading NOW, I speak to CEOs, CHROs, CDOs, and DE&I experts every day, and the most common thing they say is "we've been trying to increase our diverse population for years, but our efforts really haven't changed anything…now what should we do?"
My short answer is always the same––it's not about counting heads, it's about your company's culture. You can't just add diverse people and expect to see the measurable results you had hoped for. You have to bring ALL employees across ALL populations into an inclusive culture. ..."
Everyone Is Awesome: Lego to launch first LGBTQ+ set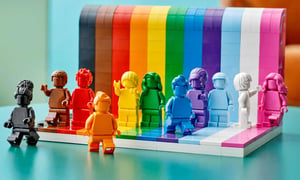 The Guardian
Representation Matters!
"...But the set attracted attention and was soon in demand. "Other members of Lego's LGBTQ+ community came by to tell me they loved it," Ashton said. "So I thought, 'maybe it's something we should share'." He also wanted to be more vocal in support of inclusivity.
"Growing up as an LGBTQ+ kid – being told what I should play with, how I should walk, how I should talk, what I should wear – the message I always got was that somehow I was 'wrong'," he said. "Trying to be someone I wasn't was exhausting. I wish, as a kid, I had looked at the world and thought: 'This is going to be OK, there's a place for me'. I wish I'd seen an inclusive statement that said 'everyone is awesome'."
Ashton said he was really happy to work for a company that wants to be outspoken over such matters. Jane Burkitt, a fellow LGBTQIA+ employee at Lego who works in supply chain operations, agreed. ..."
Building Inclusive Cultures to Drive Business Outcomes
Leading NOW
Have you seen our latest multi-part series? Check it out here: