On a timely basis we curate fabulous articles about Diversity, Equity & Inclusion on our Instagram, Facebook page, LinkedIn Leading NOW group and company page, and also Tweet them out.
We then share the the best of the best here on our blog!
Yet another gender gap: Sense of belonging at work lower among women
BizWomen

"... Just one-quarter of workers feel a strong sense of belonging at work right now, according to Achievers' 2021 Culture Report, which sought input from more than 3,500 employees around the world. Among men, 31% said this, compared to 22% of women.
"The gender gap in belonging was the largest we found in our data analysis, showing that gender equality continues to be one of the biggest challenges for business leaders," Achievers Chief Workforce Scientist Dr. Natalie Baumgartner. "Women do not feel the same sense of belonging that men feel and this means they are less likely to be bringing their whole selves to work. This impacts productivity, engagement, commitment and even feeling safe at work." ..."
CDI Introduces Groundbreaking Research on Cultural Dynamics in the Workplace™

Leading NOW
Leading NOW, the leadership expert and global advisor to organizations seeking to change mindsets, behaviors, and cultures to be inclusive for all, today announces new research from its Think Tank, the Center for Diversity & Inclusion (CDI), on Cultural Dynamics in the Workplace™. This research is the first of its kind to apply the psychology of Cultural Dynamics to "Business". It identifies the interconnected dynamics made up by the interplay of the Culture of an Organization together with Inclusive Leadership, that when combined, become the catalyst to successful DEI Initiatives producing measurable Business Outcomes.
Many studies have shown that "Diverse" companies have better business outcomes than those that are less diverse––including having an average annual stock return of 10% over five years vs. 4.2% for the least-diverse companies. This begged the questions: why have some organizations been able to reach the desired outcomes, and why have others that have implemented DEI Initiatives into their organizations failed to achieve any?
20 books to read for Hispanic Heritage Month, from gripping memoirs to captivating young adult fiction

Business Insider
"... Literature is an excellent way to learn about the experiences of the Latino population. While this community is often viewed as one monolithic group, there are a wide array of identities, experiences, and cultures represented. For example, as a biracial, third-generation Mexican-American, my experiences may vastly differ from those of a recent immigrant.
Beginning as a commemorative week in 1968 to honor the contributions of the Hispanic population, what is now Hispanic Heritage Month is celebrated from September 15 through October 15. Additionally, many Central and South American countries celebrate their Independence Day during this period.
In honor of Hispanic Heritage Month, here are 20 books that can help you better understand the intersectionality and diverse experiences across the Latino community. .."
Key facts about U.S. Latinos for National Hispanic Heritage Month

PEW Research Center
"... National Hispanic Heritage Month, which begins each year on Sept. 15, celebrates U.S. Latinos, their culture and their history. Started in 1968 by Congress as Hispanic Heritage Week, it was expanded to a month in 1988. The celebration begins in the middle rather than the start of September because it coincides with national independence days in several Latin American countries: Guatemala, Honduras, El Salvador, Nicaragua and Costa Rica celebrate theirs on Sept. 15, followed by Mexico on Sept. 16, Chile on Sept. 18 and Belize on Sept. 21.
Here are some key facts about the nation's Latino population by geography and characteristics like language use and origin groups. ..."
When It Comes To DE&I, Leaders May Be Part Of The Problem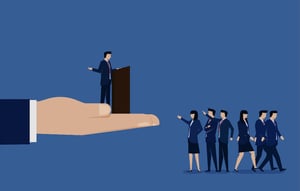 Chief Executive
"... To find out, United Minds surveyed a highly representative sample of employees across industries, levels, job types and demographics to learn more about their perceptions of DE&I efforts within their companies. We chose to focus on employee perceptions for two reasons: employees are not only critical to driving business results—the more engaged they are the better they perform, but employees also have an increasingly substantial influence on a company's reputation both internally and externally.
By identifying key themes—and differences—across and between these workforce communities we can learn what drives satisfaction, who is most at risk (and what risk they might present) and ultimately how to drive meaningful, lasting change. ..."
Equal Pay Day - Native American Women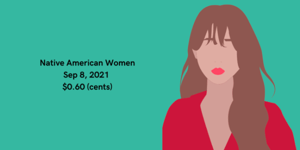 Equal Pay Today
"... Native Women earn approximately $0.60 cents on the dollar of White, non-Hispanic men (based on 2019 data). Sep 8, Native Women's Equal Pay Day is the day Native women must work into the new year to make what White men made at the end of last year. ..."After seven years of corporate life, Mary Smith had a routine: putting extra effort into her hair (so as to not appear too Black) and her demeanor (ditto) and her clothes (you can probably guess).
WAGE GAP BY DEMOGRAPHIC
National (US) Hispanic Heritage Month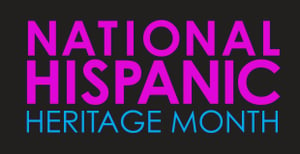 NHHM
"... Each year, Americans observe National Hispanic Heritage Month from September 15 to October 15, by celebrating the histories, cultures and contributions of American citizens whose ancestors came from Spain, Mexico, the Caribbean and Central and South America.
The observation started in 1968 as Hispanic Heritage Week under President Lyndon Johnson and was expanded by President Ronald Reagan in 1988 to cover a 30-day period starting on September 15 and ending on October 15. It was enacted into law on August 17, 1988, on the approval of Public Law 100-402.
The day of September 15 is significant because it is the anniversary of independence for Latin American countries Costa Rica, El Salvador, Guatemala, Honduras and Nicaragua. In addition, Mexico and Chile celebrate their independence days on September 16 and September 18, respectively. Also, Columbus Day or Día de la Raza, which is October 12, falls within this 30 day period. ..."
Equity vs. Equality: What's the Difference?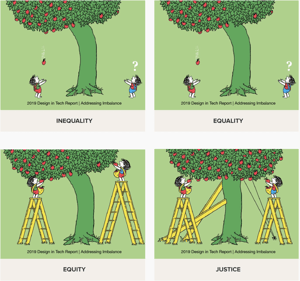 GW Online Public Heath
Originally published in 2020, but well worth sharing again...
"... While the terms equity and equality may sound similar, the implementation of one versus the other can lead to dramatically different outcomes for marginalized people.
Equality means each individual or group of people is given the same resources or opportunities. Equity recognizes that each person has different circumstances and allocates the exact resources and opportunities needed to reach an equal outcome. ..."
Building Inclusive Cultures to Drive Business Outcomes
Leading NOW
Leadership Lessons from Women Leaders
Leading Women