This month's special edition of ICYMI is a round-up of articles written by our CEO, Kelly Primus, and previously published for Forbes. We thought it would be helpful for you to have these great articles all in one place as the topics center around leadership development and building a culture of inclusion. Many of the articles address some of the challenges you may be experiencing in your own organization. Remember, we are your go-to resource!
And, just in case you missed our big news last month, Leading NOW was named a Top 10 Leadership Development Services Provider, too! You can read more about that here.
Let's get your organization moving in the right direction together by retaining and developing talent at every level. Download more information here, and visit our Instagram, Facebook page, LinkedIn Leading NOW group & company page, and Twitter for more great insights.
Why The Most Successful Leaders Create A Psychologically Safe Workplace

Creating a culture of inclusion takes work. A lot of work. And like most cultural and behavioral shifts, it starts with leaders understanding how their mindsets, actions, reactions and decisions affect how employees perceive them. As leaders striving to be inclusive, the first thing we must ask ourselves is whether those around us feel psychologically safe enough to share their thoughts and ideas without fear of reprisal. Unfortunately, many times, the answer is no.
The idea of psychological safety has been around for a long time, but renowned behavioral scientist Dr. Amy Edmondson said it best when she defined it as "...a shared belief held by members of a team that the team is safe for interpersonal risk taking..."
DEI Churn & Burn Is Real—Here's What You Can Do To Stop It

There is a disturbing diversity, equity and inclusion (DEI) trend taking place in organizations of all sizes and across all industries as leaders do everything (or so they think) to create a more inclusive culture. Organizations will appoint a Chief Diversity Officer (CDO) and then expect that one person (or team) to fix everything without providing them the necessary resources, budget or executive support to be successful. And then they'll wonder why, in 12 to 24 months, the CDO quits. At Leading NOW, we're calling this the "DEI Churn & Burn."
I've been having this conversation a lot lately with frustrated executives who don't understand why they've shown no progress in their D&I measures at their organizations and/or can't seem to retain their DEI talent. Some of them have even churned through several CDOs and have struggled to implement successful DEI strategies. They are flat-out perplexed as to why they aren't making progress.
..."Read ON!
It's Time For CEOs To Deliver On Their DEI Pledges

It's been a few years since a flurry of CEOs pledged their organizations' commitment to do more in support of DEI. Thousands committed to actions that support a more inclusive workplace for employees, communities and society. Fast-forward to today, and it seems most organizations still haven't made much progress. Why?
The short answer is that CEOs simply haven't done the necessary work. They made the statements and expressed their support––but have they really done anything? A recent Culture Amp article notes that "now more than ever, organizations are beginning to recognize the urgency of advancing diversity, equity, and inclusion," yet "few have made meaningful progress beyond hiring some DEI staff and making small investments in programming." Here's why.
Winning The War For Talent Is A Battle, But It Doesn't Have To Be

The Great Resignation, the Big Quit, the Talent Shortage—you can call it whatever you want. The reality is that the war for talent is a fierce competition and likely raging in your organization.
The Bureau of Labor Statistics reports that unemployment in March 2022 hit 3.6% in the U.S. For organizations that are trying to grow, or that recognize they need to hire a significant number of employees to do so, this puts them in a difficult situation. For instance, networking hardware giant Cisco Systems reports it's planning on hiring 5,000 employees this year in order to grow. Imagine having that challenge.
Leadership Barriers To Diversity, Equity And Inclusion, And How To Address Them

According to a survey by Glassdoor, more than 50% of people think their companies should be doing more to increase workforce diversity.
It all started in 1964, more than 50 years ago, when Congress passed the Civil Rights Act, which prohibits discrimination based on race, color, religion, sex or national origin. The act, of course, applies to employers. Yet after all of the civil unrest we experienced in 2020, how many times did you hear a CEO or spokesperson for an organization say that they are committed to building a diverse and inclusive culture? Probably too many to count.
Five Ways To Become A More Inclusive Leader

The events of the past 12+ months have made it very clear that organizations and leaders within companies are looking to foster a more inclusive work culture. While this isn't something that can happen overnight, it can happen — by resetting workplace dynamics and implementing inclusive practices.
A recent article from McKinsey & Company notes that workplace changes introduced in response to Covid-19 provide an opportunity for organizations to introduce new habits. Since working remotely could be a permanent part of the next normal for some employees, organizations and teams, companies should seize this opportunity to build more inclusive habits. The article states that a shift in workplace dynamics "can, and should, serve as a catalyst to embed more inclusive practices and more effective leadership skills." I couldn't agree more.
Three Things Organizations Must Do In 2021 In Support Of DE&I

In 2020, organizations became acutely aware of the importance of DE&I due to the social unrest and volatility swirling around them. Many are now attempting to figure out how to be supportive of their diverse employee population. What should they put their energy and resources towards that will actually have a positive impact? This is the question that many organizations are struggling to answer, and few are getting right.
As the CEO of the global advisor Leading NOW, I speak to CEOs, CHROs and CDOs every day, and the most common thing they say is, "We've been hiring diverse employees for years, but our efforts really haven't changed anything…now what should we do?"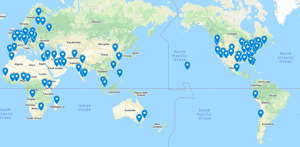 Leading NOW
As the leadership expert and global advisor to organizations seeking to change mindsets, behaviors, and cultures to be inclusive for all, Leading NOW's team of thought leaders and global consultants are available to speak on a wide range of timely topics including DEI, Cultural Dynamics, Leadership & Talent Development, Women's Leadership, Mentorship, and more. For information on upcoming speaking events and to see a curated sampling of our Leading NOW experts in action, click on any of the links below.
For more information on how to request a Leading NOW expert for your next conference, event, or podcast, visit our conferences & speaking engagements page.