Happy PI Day! Here at Leading Women we want to talk about the state of women in STEM fields. Below are some interesting articles that we have found and want to share with you:

Photo Credit: Pillsbury.com Triple Berry Pi Day Pie
How To Inspire More Young Women To Enter STEM In 2018
Forbes
As women remain underrepresented in fields of STEM, how do we begin to close the gender gap and inspire the next generation of female innovators and leaders? At a time when technology continues to rapidly transform the way we live, we can and should work to empower more young women to take an active role in that transformation.
In that spirit, Forbes partnered with Audi of America in 2017 to launch the inaugural "Idea Incubator," a program dedicated to inspiring future generations of female STEM leaders while also bringing together emerging talent to ideate around solving for real-world challenges through a STEM lens. Students from the New York University Tandon School of Engineering were tasked with developing solutions to a critical issue facing women and girls today – access to reliable, safe and affordable transportation. The winning team of students was presented with the first "Audi Drive Progress Grant," a $50,000 scholarship to propel their studies.
I asked the four members of the winning team for their best advice on inspiring future generations of young women to follow in their footsteps.
"What's the one thing you would do to encourage more young women to enter the fields of STEM?"
Why hundreds of female meteorologists are donning purple for Pi Day
AccuWeather
Weather broadcasters from across the country will once again reunite on Pi Day to encourage the involvement of women and young girls in science, technology, engineering and mathematics (STEM).
However, for the third annual #DressForSTEM, local and national female meteorologists are doing away with "The Dress" and instead invite people of all backgrounds to join them in wearing purple clothing on March 14.
Photos of meteorologists matching in the famous dress originally went viral in December 2015 and later merged with Pi Day, which celebrates the mathematical constant of 3.14.
Nokia's Head of Diversity: How We Leveled The Playing Field For Women in STEM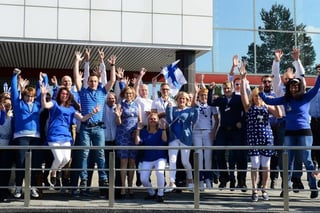 Glassdoor
We at Leading Women are honored to be a partner on Nokia's journey!
-Susan
"Top global telecommunications giant, Nokia, takes workplace diversity extremely seriously. Their purpose is to create technology that is connecting the world, but what you don't know is how they are connecting employees and giving them a platform in which to speak up, be heard and become role models within the company.
Their Glassdoor ratings stacks up pretty well too. Nokia's overall rating of 4.0 is well above the average site rating at 3.4/5. Their CEO, Rajeev Suri, has an approval rating of 90 percent (at time of writing) which is, again, well above the site average of 68 percent.
To find out more, we managed to gain an exclusive interview with Pascale Thorre, Nokia's Head of Global Diversity and Inclusion to discuss game-changing diversity strategies, caring about employees and how they want to extend that duty of care to family members."
The Storytellers: 12 women shining a spotlight on women in STEM
siliconrepublic
Representation matters, and these people are ensuring the visibility of women in STEM by sharing their stories.
Chances are, if you're asked to think of a name from STEM on the spot, that name will be a man's. The history of women in STEM has not been given equal attention, and the same is true of the column inches, screen time and airwaves devoted to present-day innovators. But these authors, performers, creators and campaigners are making sure that women in STEM are not forgotten.
Wisdom from black women in STEM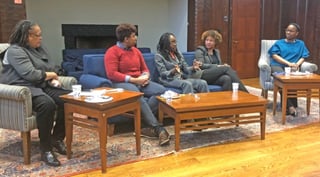 Harvard
What do the chair of Harvard's History of Science Department, a cancer biologist, a physician in internal medicine, a doctoral student in psychology, and an information security specialist have in common? Evelyn Hammonds, Makendra Umstead, Paulette Chandler, Kiera Hudson, and Lindsay Nuon, respectively, are all professional black women in STEM.
They comprised the panel at the Black Women in Science and Engineering brunch on Feb. 24, hosted by the student chapter of the National Society of Black Engineers (NSBE). Board member Augusta Uwamanzu-Nna, S.B. '20, a bioengineering concentrator at the John A. Paulson School of Engineering and Applied Sciences (SEAS), moderated the event and opened by articulating the rationale for a NSBE chapter at Harvard.
"We are a group that is not highly visible in our field. Seeing people who look like you doing what you want to do is very inspiring," she said.
The More Gender Equality, the Fewer Women in STEM
The Atlantic
A new study explores a strange paradox: In countries that empower women, they are less likely to choose math and science professions.
Though their numbers are growing, only 27 percent of all students taking the AP Computer Science exam in the United States are female. The gender gap only grows worse from there: Just 18 percent of American computer-science college degrees go to women. This is in the United States, where many college men proudly describe themselves as "male feminists" and girls are taught they can be anything they want to be.