Happy PI Day! Here at Leading Women we want to talk about the state of women in STEM fields. Below are some interesting articles that we have found and want to share with you:

Photo Credit: Pillsbury.com Triple Berry Pi Day Pie
Another Obstacle for Women in Science: Men Get More Federal Grant Money
New York Times
... Only one in five applicants for an N.I.H. grant lands one, an achievement that can be crucial in whether a young researcher succeeds or drops out of the field.
"That first grant is monumentally important and determines your trajectory," said Carolina Abdala, a head and neck specialist at the University of Southern California, who won her first N.I.H. grant in 1998. "It can help get you on the tenure track and it gets you into that club of successful scientists who can procure their own funding, which makes it easier to change jobs."
But the size of the grant can also be important in determining the scale and ambition of a junior researcher's first lab. Teresa K. Woodruff, a co-author of the JAMA study, said that having less money put women at a disadvantage, making it harder to hire graduate students and buy lab equipment. ...
The first all-female spacewalk will take place during Women's History Month
Washington Post
... If all goes according to plan, on March 29, astronauts aboard the International Space Station are scheduled to conduct the first all-female spacewalk. Anne McClain and Christina Koch will venture out together about 240 miles above Earth and make history. Adding to the significance of their mission, the spacewalk will take place during Women's History Month.
"It was not orchestrated to be this way," said NASA spokeswoman Stephanie Schierholz. "These spacewalks were originally scheduled to take place in the fall — they are to upgrade batteries on the space station." McClain and Koch's spacewalk will be the second of three planned excursions for Expedition 59, which launches next week on — what else? — Pi Day at 3:14 p.m. Eastern time.
Schierholz pointed to the fact that women would be at the controls as well. Mary Lawrence will serve as lead flight director, and Jackie Kagey will be the lead spacewalk flight controller. ...
Gender equality in STEM is possible. These countries prove it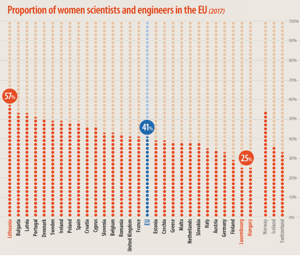 World Economic Forum
... Globally 72% of scientific researchers are men. Only one in five countries achieve what is classed as "gender parity" with women making up 45%-55% of researchers. And in only a handful do women working in science outnumber men – with distinct regional variations.
In the EU 41% of scientists and engineers are women. But women outnumber men in those professions in Lithuania, Bulgaria, Latvia, Portugal and Denmark, as well as in non-EU member Norway.
But less than a third of researchers are women in Hungary, Luxembourg, Finland and, perhaps most surprisingly, Germany, which is actually led by an accomplished female scientist, Chancellor Angela Merkel.
Across Europe as a whole, men dominated high and medium high-technology manufacturing: 83% of scientists and engineers are male in those sectors, compared with 55% in scientific services.
In Asia, women make up the majority of researchers in Azerbaijan, Thailand, Kazakhstan, Georgia, Armenia and Kuwait.
In the Americas, Bolivia, Venezuela, Trinidad & Tobago, Guatemala, Argentina and Panama all have more than 50% female researchers, as do New Zealand and Tunisia.
So what is special about these countries? ...
Is This The Year Of Women In Science?
Forbes
Donna Strickland received the 2018 Nobel Prize in physics for her work on chirped pulse amplification (CPA) a method she and her doctoral adviser Gerard Mourou developed to deliver short laser pulses of high intensity. Before then, researchers were not able to exceed a certain threshold in laser intensity. By creating short pulses of higher intensity, Strickland and Mourou opened the door for the use of lasers in medical procedures such as laser eye surgery and proton therapies to treat deep-tissue tumors. In addition, CPA is used in several manufacturing processes, such as cutting the cover glass for smartphones. And, in research, CPA is used to "generate huge quantities of charged particles and light for heating matter to stellar interior conditions," according to Professor Gilbert (Rip) Collins of the University of Rochester's high-energy-density physics program. Strickland is the third woman in history to receive the Nobel Prize in physics, and the first in 55 years. The second female laureate Maria Goeppert-Mayer received the prize in 1963.
Frances Arnold, Caltech professor of chemical engineering, received the 2018 Nobel Prize in chemistry for her work in genetically engineering enzymes used to make biofuels, medicines and even laundry detergent. Initially failing to manufacture new enzymes from scratch from their amino acid building blocks, Arnold then piggybacked on nature's own reproductive capacities, by injecting into bacteria the genes that code for the enzymes she wanted. By iterating the process with randomly mutated genes, she was able to produce the best version of the enzyme, directing and accelerating the otherwise slow process of evolution. Often accused of not doing actual science, she "laughed all the way to the bank, because it works." And with the 2018 Nobel Prize to add to her vast list of awards and honors, Arnold clearly has the last laugh.
The Royal Swedish Academy of Sciences, the voting body for the Nobel prizes in Physiology and Medicine, Chemistry and Physics, has awarded only 3% of its science Nobel prizes to women, historically overlooking even the most deserving.
In fact, it's more likely that a woman will have an element named after her than win a Nobel prize. Of the 14 elements named after scientists, two, or 14%, are named after women.
Research: Women Are Winning More Scientific Prizes, But Men Still Win the Most Prestigious Ones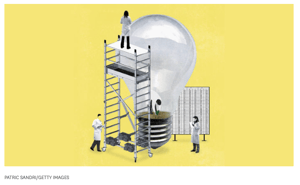 Harvard Business Review
... Our approach was simple: we documented all biomedical research prizes we could find over the past five decades (1968-2017), from the big ones like the Nobel and the Breakthrough Prize to much smaller, lesser-known awards—628 prizes in all. We also considered the financial awards and prestige (measured by the average Wikipedia views for a given prize in recent years) associated with the prizes, as indicators of their quality. Then we measured the percentage of prizes won by women and the association between gender and prize quality.
Our initial results highlighted overall good news: the proportion of biomedical prizes awarded to women has risen steadily.
In the late 1970s, about 5% of prizes for biomedical research went to women, presumptively out of line with their participation rate (in 1974, for example, 22% of all students entering medical school were women) and suggesting a potential bias against female researchers. But over the past decade, that figure has stood at about 27%, well-aligned with the proportion of authorship women represent, suggesting decreased bias.
But there's a not-so-silver lining. When we looked at the association between gender and quality of prizes awarded, we observed a major disparity: on average, women scientists win prizes associated with less money and prestige than men do. Female prizewinners earned an average of about 64 cents for every dollar won by men. Of the top 50% of all prizes by prestige, women won only 11% of the awards across our period of study. Importantly, as our forthcoming research suggests, there's no evidence that the quality or value of women-led research is any lower than that of men, as measured by citations per article, productivity, or breadth of research topics studied.
So women are catching up in terms of number of prizes won (quantity), but still lag significantly in regard to the prestige and monetary awards associated with the prizes (quality)....
The Women Who Contributed to Science but Were Buried in Footnotes
The Atlantic
... Even when women do become authors, the systemic biases that pervade modern science can work against them. For a start, they're outnumbered: One recent study found that, given current trends, it would take 16 years for the number of male and female authors to equalize across the sciences, and 258 years for fields like physics. That discrepancy is especially stark in the highest-profile journals, where women account for just 25 to 35 percent of people in the coveted first-author slot. And at least in some fields, studies authored by women tend to be cited less frequently than those authored by men.
For these reasons and others—less training, lower salaries, less mentoring, fewer speaking opportunities, more negative stereotypes, and more harassment and abuse compared with men—many women leave scientific careers early. Those who stay are judged more harshly and less favorably than equally qualified male peers. Some are forgotten....
Read ON!