Equipping women to deal with gender dynamics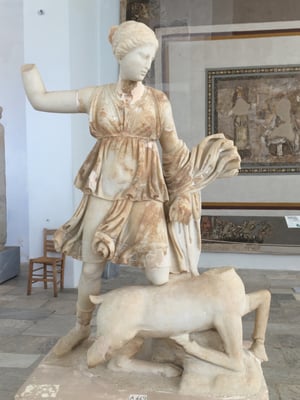 "History must be learned in pieces. This is partly because we have only pieces of the past...which give us glimpses of what has been but never the whole reality."
Thomas Cahill, author:
Sailing the Wine Dark Sea
This quote about the fragmentary nature of history reminded me of the photo I took of the goddess Artemis in the museum on the Greek Island of Delos (her birthplace). Artemis, the huntress, was one of the most widely venerated ancient Greek goddesses and seeing her I reveled in the thought that in certain cultures deities could be - and still can be - women.
In the U.S. and many other countries around the world we are very far from such cultures and far from any historic understanding of how the status of women has changed over time. Instead, as Marianne Cooper of Stanford University's Clayman Institute for Gender Research has said,
We spend much more time giving girls pep-talks than we do talking to them about sexism. Our need to encourage them over and over again... actually renders invisible the reasons that we need to be so encouraging in the first place.
The invisibility (dare I say denial) of sexism runs deep.
Changing Mindsets, Taking Action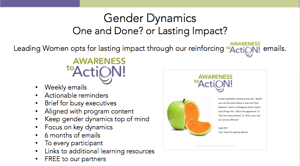 As humans, it seems we're forever struggling against our own stubborn, biased brains. (Some researchers have declared that it only takes a tenth of a second to form a nearly unshakeable first impression about others.) When it comes to the workplace, mindsets are a huge part of what creates the leadership gender gap. That's why, when 27 US CEOs pledged to fill fifty percent of their top roles with women by 2030, they called on senior managers to take actions such as these:

"...address unconscious bias; base advancement on performance rather than time in the office; promote women into operating roles with responsibility for profit and loss; set targets and communicate them; and actively sponsor promising female leaders."(emphasis added)
But even concrete actions such as these can fail because of the tricky, automatic activity in our brains.

The latest research from McKinsey again verifies that managers' mindsets are a key factor contributing to the glacial pace of women's advancement. While almost 100 percent of the companies they studied offered anti-harassment/discrimination training, gender dynamics/bias training was much rarer. 67 percent of the companies offered training on the role of gender dynamics in hiring, while only 56 percent offered training on the impact on performance reviews.
Self-Promote with Stunning Elevator Pitches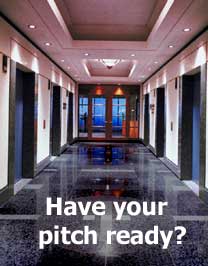 The first time I heard the term elevator speech was in the middle of the dot-com bubble. I had been hired to design a three-day new employee orientation program for webMethods and the CEO was laying out the specifications. Among them he said this, "Everyone at webMethods must understand that they're salespeople. They must know our elevator speech and be able to pre-qualify potential customers anywhere they meet someone -- on the plane, at a cocktail party, at a conference."...
...What is an elevator pitch? Originally an elevator speech referred to a short (you can say it in the time it takes an elevator to move between floors) and complete description of the business idea of an entrepreneur trying to catch the attention (and backing) of a venture capitalist.
In the context of our careers as women leaders in organizations, elevator pitch means a short description of the position we hold and why it matters. It is used to catch the appropriate attention of people we meet by promoting the value we offer (the company, a potential employer, a network member).
Which is the Pitch?
Leadership Lessons: Mary Barra, CEO General Motors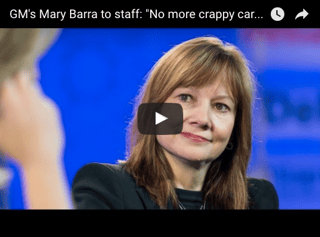 One of 2013's top stories for women in leadership was to see Mary Barra, CEO of General Motors become the first woman CEO of any auto company! Mary's route to the top is similar in many ways to other Fortune 500 women. Like most F500 women CEOs, Mary:
Is married.
Is a mother (two teenagers).
Has a Bachelor's degree (electrical engineering) and a Masters (MBA).
Has held both line and staff jobs - including a stint as Chief HR Officer, running an assembly plant and as EVP of global product development
She's known for her interpersonal skills and team focus, cut-to-the-chase style and focus on the customer
The Missing 33%™ - What Women Need to Lead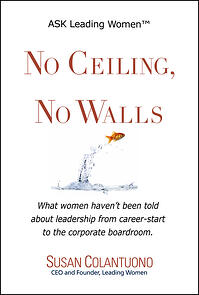 Too often mentors coach women on confidence and personality rather than business and financial ability.
Diversity Executive magazine recently interviewed Susan L. Colantuono, CEO of Leading Women. Below are excerpts from the interview. (Please share this important info liberally with colleagues in and outside your company and other women in your organization.)
"Can you describe the missing 33 percent of a woman's professional background that keeps her from reaching the top?
As women move up, we get to a point where future opportunities rest on our perceived potential for leading the business, not just leading the people. When determining whether a woman can lead the business, executives look for business, strategic and financial acumen. This is what I call The Missing 33% of the career success equation for women — not because women don't or can't have business, strategic and financial acumen, but because very few women are clearly told how essential these skills are for reaching the top."
When you're accustomed to privilege equality feels like oppression.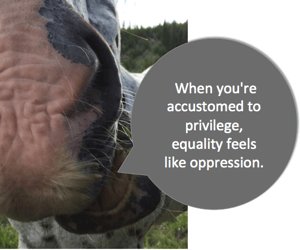 At the tail end of 2016, the CEOs of 27 large companies made an unprecedented announcement: they pledged to have 50% of their top leadership roles filled by women by the year 2030. To achieve the goal, they identified key actions for senior managers including:
"...address unconscious bias; base advancement on performance rather than time in the office; promote women into operating roles with responsibility for profit and loss; set targets and communicate them; and actively sponsor promising female leaders."
Executives in the EU and Australia have similar coalitions in place.

Time to break out the champagne, right? Not so fast. Surprisingly—or perhaps unsurprisingly, depending on how cynical you are—not everyone agrees that we need more gender equality initiatives. In fact, there are many men and some women who think actions like calls to promote women into operating roles, setting targets and sponsoring promising women are frankly unnecessary and unfair.
Recipes for Mentoring Success: CAKE and PIE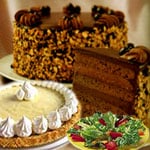 In general, it is a mentor's job to help her protégé position herself to achieve career success and the protégé's job to work with her mentor to achieve career goals. When it comes to career success, our research indicates that men and women speak differently about mentors and their roles. Understanding this difference will help you be a better mentor and/or protégé.
What we've found is that when discussing the impact of their mentors, successful men talk about "PIE" and successful women talk about "CAKE". To illustrate, let me first ask you a question. If you were to review a posted job in which you were interested, what percent of the listed job requirements would you feel you had to meet before you'd go ahead and apply?
Top 6 TED Talks on Women's Advancement and/or Leadership

6 TED Talks for Leadership Development and Career Success for Women
We searched TED for the most viewed, most fascinating, most informative talks on women in business and on leadership and created a list of TED Talks that everyone should watch.
Here's our list. Continue reading to see why!
Managers' Mindsets and Hostile Work Environments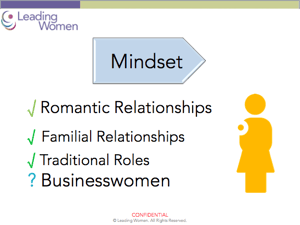 Women don't want to talk about it... men don't want to own up to it. The far too silent barrier to women's advancement is the dynamic of Non-Parental Gender-Based Role Expectations. Here's why.

About 10 years ago when we systematically started tracking gender dynamics, we didn't specifically ask about outright harassment because most companies' anti-harassment policies and practices seemed to be working fairly well. Instead we asked about overall "gender-based role expectations (non-parental)" and the dynamics of women being seen and treated as:
sex objects (through the lens of potential romantic relationships),
daughters/sisters needing protection or mothers to be rebelled against (through the lens of familial relationships) or
handmaidens (through the lens of roles traditionally held by women).
These challenges rarely rose to be counted among the top 4 mindsets that create barriers to advancement. Instead, they cited things like the Motherhood Penalty, which happens when beliefs about the "proper" role of mothers conflict with women's career aspirations and managers' talent decisions.
Require Diverse Slates of Candidates to Minimize Gender Dynamics
When it comes to overcoming mindsets that cause the leadership gender gap, one of the practices that we recommend is to require recruiters (internal and external) to deliver diverse slates of candidates for key positions. While companies often focus on senior positions, we recommend this practice be implemented for positions above the diverging point (the point at which the % of women begins to decline and that of men increases).
While it is intuitively logical, that this practice would contribute to more women being selected, the research of Iris Bohnet of the Kennedy School explains why. Comparing women and men in hiring pools minimizes the risk that gender dynamics (bias, assumptions, stereotypes) will result in poor hiring decisions.