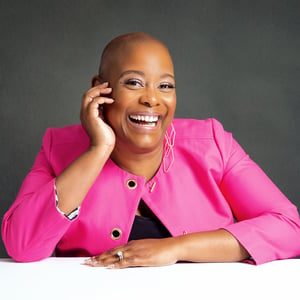 Joyel Crawford joins Leading NOW as a senior consultant in our leadership development practice.
Before beginning her consulting career, Joyel supported professionals within all functional groups for 18 years at Verizon Wireless. She worked in Employee Relations, EEO/AA, Staffing, Professional Mentoring, and Learning & Development Training throughout her career. She was a Manager of Management and Employee Development in charge of the Leadership Development programs for over 20K employees.
Joyel has facilitated leadership development courses, and has been a keynote speaker for businesses and organizations such as the U.S. Senate, NASA JPL, The New York Times, ESPN, Intuit, NYC Mayor's Office, Morgan Stanley, Hewlett Packard, Aramark, various chapters of SHRM, NJACP, SHFM, and many other notable industries, organizations, and higher education institutions.
Joyel received her bachelor's degree from Elon University, her master's degree in management from Fairleigh Dickenson University and is a Certified Professional Career Coach (CPCC). She also holds PHR, SHRM-CP (retired), DISC, and Birkman Assessment certifications.
Joyel also hosts a podcast called "Career View Mirror®" and is the author of the Amazon Bestselling book "Show Your Ask: Using Your Voice to Advocate for Yourself and Your Career" which was ranked #1 in New Releases.