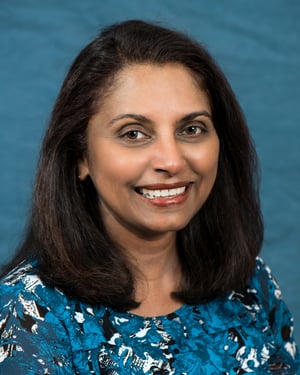 Dr. Usha Pillai, senior consultant, is a specialist in strategy, critical thinking, change management, outsourcing, and project/program management. With over 20 years of experience as a leader and scientific professional in a global setting, Usha brings an integrated and holistic perspective to every engagement. Prior to founding Aria Management Consulting, she held various positions with increasing responsibilities and complexities at Pfizer, Inc., where she effectively leveraged her broad scientific knowledge, excellent global business acumen, and strong network of global resources to achieve and often exceed business goals. She led strategic planning and outsourcing, introduced change management, and partnered on organizational re-design and strategy. Following Pfizer's acquisition of King Pharmaceuticals, Usha served as an internal consultant responsible for coordinating plans for integrating King's research portfolio into Pfizer. She introduced innovative platforms fostering external partnerships, and she has over seven years of experience executing and managing strategic alliances. One of her current engagements is with the Economic Development Corporation of New Haven where is working to establish a Bioscience Clubhouse dedicated to fostering science entrepreneurship.
In 2010, Usha was selected by Pfizer, Inc. as a Global Health Fellow. She spent 6 months in Ghana working with Family Health International, a global non-profit organization. During her tenure in Ghana, she utilized many of her leadership skills to quickly assess her environment and engage team members to contribute their skills and talents, and, perhaps most importantly, to "own" the program. She successfully led the team in developing and implementing long-term sustainability plans, decreasing future dependence on donor funds. Usha also authored Lesson's Learned from Ghana, a report detailing the successes and challenges of the program easily transferable to health care related challenges that developing nations face.
Usha is a certified Project Management Professional (PMP). She holds a Bachelor's degree in Pharmacy from the Bombay College of Pharmacy, India; an Executive Masters in Technology Management from Rensselaer Polytechnology Institute; and a Ph. D. in Pharmaceutical Sciences from the University of Louisiana at Monroe. She also trained as a post-doctoral fellow at the University of Arizona in Tucson.
Testimonials
Cultural Dynamics in the Workplace™ Master Class is a hit!
"Great presentation and information…this stood out because of the amount of research they used in the presentation… Dr. Usha was wonderful."