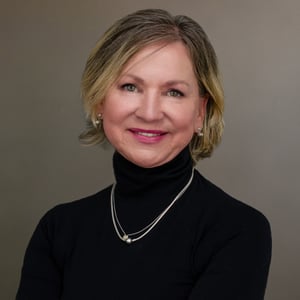 Nicole Gionet joins Leading NOW from Alcatel-Lucent where she was Chief Human Resource Officer (CHRO) based in Paris, France.
She is also an associate coach with PeopleDynamics Learning Group (PDLG) with a specialty in working with senior executives and aspiring executives.
Since June 2020, she is Chairwoman of the Atlantic Cancer Research institute Board of Directors in New Brunswick, Canada.
With 30 years of extensive international human resources experience, she began her career with the Government of Canada and moved to the telecommunications industry in 1997. She has worked, lived and experienced the cultural diversity of 4 countries – Canada, Belgium, China and France. Nicole is fluent in both French, her native language, and English.
Alcatel-Lucent (acquired by Nokia in January 2016) was the leading IP Networking, Broadband Access and Cloud Technology Specialist, headquartered in Paris, France (14.bn€ and 55 000 employees in more than 100 countries; its main customers being the top telephone, cable and internet service providers around the globe).
As CHRO, Nicole led the HR function during the most significant cultural, financial and operational transformation in the company's history. Under her leadership, she modernized the HR function, adapting its operating model, systems and processes to meet the global and diverse footprint of the company; outsourcing all transactional activities to a 3rd party, re empowering people managers, and placing talent and leadership at the core of the company priorities – while reducing the overall HR cost by 20% and workforce by 30% .
Nicole is widely known for her track record as a leader, and her exceptional ability to establish trust and respect as well as build collaborative relationships to achieve positive outcomes with clients, senior management, colleagues and staff.
More recently, Nicole has dedicated her leadership time and attention to executive coaching and to women in business and designed as well as delivered a global program: the "Top 20" to increase gender diversity in the upper leadership ranks of the company. Since establishing this program which has been expanded worldwide, 45% of participating women have been promoted into more senior roles across the world.
Nicole completed an Executive Management Development program for Women at Carlton University in Ottawa, Canada. She is a certified Business Coaching Advantage Practitioner (BCAP) and a registered Corporate Coach (RCC).