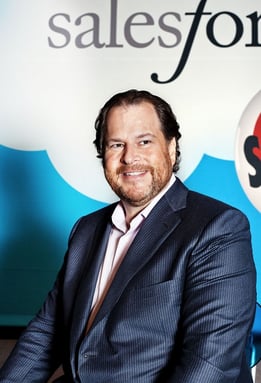 Over the last few years or so we have noticed a number of CEOs who are being praised in the news for understanding that gender dynamics are real and when they level the playing field for all of their employees they help their company as a whole.
In one of Leading Women's blog posts from May 2015, we wrote about Michael Simonds, CEO of UNUM who wrote with deep understanding about women's advancement and closing the leadership gender gap.
Our latest nominee for a CEO Who "Gets It" - Salesforce.com CEO Marc Benioff - was in the news in March 2016 for ensuring pay equity by conducting wage equity audits and making the requisite adjustments, and for naming their first Chief Equality Officer in September 2016.
Cindy Robbins EVP, Global Employee Success, at Salesforce talks about the process the company went through to conduct this equity audit and make adjustments on the Salesforce.com website:
We put employees in comparable roles into groups and analyzed salaries of those groups to determine whether there were statistically significant wage differences between women and men. We based our analysis on objective factors that determine pay, such as job function, level and location. If there were unexplained differences, salary adjustments were made for both men and women as needed.

Our assessment showed that we needed to adjust some salaries—for both men and women. Approximately six percent of employees required a salary adjustment, and roughly the same number of women and men were impacted. Salesforce has spent nearly $3 million dollars to eliminate statistically significant differences in pay.
But this is only a start. Benioff has already taken action on current wage discrepancies. He has given some women raises and will hand out more, saying, "when I'm done there will be no gap. My job is to make sure that women are treated 100 percent equally at Salesforce in pay, opportunity and advancement." This sentiment right here is what makes the new position of Chief Equality Officer not Chief Diversity Officer so important:
The decision to include the word equality in the title was "very deliberate" and "very thoughtful," says Prophet. Usually, the person in charge of initiatives relating to minority employees is called a chief diversity officer, yet Benioff says Prophet's role will extend beyond diversifying the software giant's workforce.

"There's a lot of work to be done in different areas—we're working for equality, fighting inequality—LGBTQ, gender, race," Benioff tells Fortune. The fight for equality is not just about making Salesforce a more diverse place, he says, but about investing in basic human rights—such as women's health and public education—that will help lift up minority communities. (From: Forbes)
Gender dynamics is the reason that even the most sophisticated job banding systems don't ensure wage equity. Research tells us that negotiations for starting salaries are unequally successful between women and men (men earn more at the start).
The Motherhood Penalty/Fatherhood Reward can cause managers to unequally evaluate the commitment and potential of women versus men.
Prevailing Leadership Paradigm often results in wage adjustments that favor "leadership" to look like command & control leadership behaviors. This is a style that is least commonly used by women who research finds prefer a more inclusive approach.
Meritocracy or "Bragitocracy"? Companies like to think they are strict meritocracies, but often they are more like bragitocracies where those who self-promote (more often men than women) are rewarded. Famously Sally Krawchek dished to this unsavory behavior:
"Say we've got two employees, Joe and Joanne. They're both set to make $5 in bonus. Joe comes into my office and says, "Hey, Sallie, I've had a great year. I'd like to make $10 this year."
After Joe leaves, I call the head of HR, and we sort of say, "Can you believe this? Joe wants to make $10, he's in for $5, ha ha ha." But we don't want to lose him. So we put him in for $7. And that means Joanne isn't going to get the $5 we had planned. She's going to get $3. Because the bonus pool doesn't go up. She sees her bonus actually reduced."
Which makes me ask, with all of the capabilities in enterprise management systems,
why aren't wage equity audits done in every company, every year?
Why is the burden for wage equity consistently placed on the shoulders of women who are told, "get better at negotiating for compensation."
You will get a taste of our work on the above 3 Gender Dynamics
(and all of those we educate about) when you...
...and discover how Gender Dynamics differ by country in our infographic
More Leading Women Blogs on Gender Dynamics HERE

2017 Updates:
"Every CEO needs to look at if they're paying men and woman the same. That is something that every single CEO can do today. We all have modern human resource management systems, but as a CEO are you willing to step up and say I pay men and women the same?"
- Marc Benioff, CEO, Salesforce - while at #2017WorldEconomicForum
Benioff "gets" that audits need to be done on an ongoing basis! "Salesforce had pledged to review its gender pay gap on an on-going basis, and the need for another adjustment <due to recent acquisitions> underscores the nature of pay equity—it is a moving target..."
This week, Salesforce has released its latest analysis, finding that 6 per cent of its global workforce requires pay adjustments, following a review of all staff assessing salaries and bonuses globally.
It's also revealed that it's still learning about what drives pay inequality, including the levers that can create pay gaps ranging from legacy industry practices to acquiring companies and external changes in the job market. They've also found that one off adjustments do not make such pay gaps go away, forever.