This weekend I had the honor to speak at TEDxBeaconStreet on closing the gender gap at the top.
I explained why these three things can't be counted on to close the gender gap at the top:
Conventional advice to women
Typical talent development and performance appraisal systems
Unexamined mindsets of managers
...and what must be done to move women to the top.
I'll post a link to the video as soon as it's up. In the meantime, enjoy this artist's rendering of the Talk.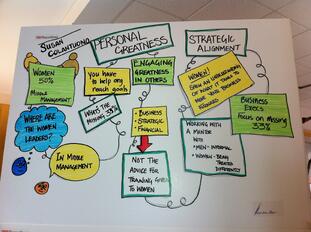 Lead ON!
Susan