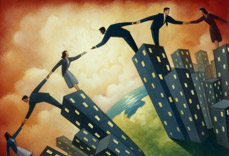 We work hard with clients to engage managers and executives in actions to close the leadership gender gap. During one of our multi-month leadership programs, the managers (most often men) who have nominated the women participants join us for 3 major topics: What is Leadership?, The Missing 33%™ and Make the Most of Mentoring™. It's an effective way to address several gender dynamics - including the powerful one we call "Men's Culture of Mentorship/Sponsorship."
They find the content eye opening - here's one example of how. When we talk about mentoring, we focus not on how to find a mentor or the steps in a mentoring relationship nor on the ways that mentoring can help build confidence, but rather we focus on how to use mentoring to strengthen leadership skills (we call this PIE Mentoring™). Our research tells us that more men than women get PIE Mentoring.
As I wrapped up the mentoring module in one of the workshops, an executives said,
"Last year I was mentoring a woman and a man. I helped the woman build confidence and helped the man learn the business (PIE Mentoring). I wasn't aware that I was doing anything different and I don't know why I would treat them differently. Going forward I'm going to make sure that I give women more PIE mentoring."
This manager will forever be a more effective mentor across genders.
These insights are important for people managers of both genders. Recently a woman CEO who heard our content on PIE Mentoring™ said,
"Your presentation made me think. I mentor my women and men direct reports differently and never realized it."
For info on how Leading Women can help your organization create conditions for insights and actions like these, contact us.
Wondering how our services will make a difference in your company? Here's a partial list of industries Leading Women has worked with: BioTech, Pharma, Insurance and Financial Services, Professional Services, Telecomm, Food Service, Energy, Logistics, Consumer Goods, Construction and more.
More Leading Women Blogs on Gender Dynamics HERE
Lead ON!