Recently, I was asked to present information on "How to Make a Business Case for Gender Diversity" at the 100% Talent Wage Gap Summit in Seattle. Citing research on how increasing the percentage of women in leadership delivers significantly better business results from well-known organization's like Credit Suisse, McKinsey & Co., Peterson Institute for International Economics, EY, Catalyst, and the Centre for Talent Innovation, I had all the data back-up I needed to make the case for investing in diversity initiatives.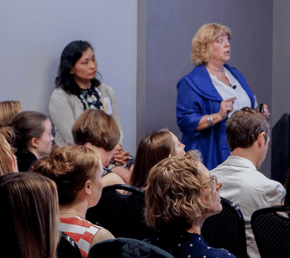 In
terestingly, where the data clearly supported my presentation, it was the stories I told about our clients' successes that resonated more with the audience.
When I shared stories about how we helped one company who wanted more women in country management roles in EMEA, or how we worked with the executive team of another company who wanted to be known as the best company for women in their industry, or finally a global organization who came to Leading Women, over all of the other leadership development organizations, because our solutions are based on our global research, customized to the client's business / strategy, and facilitated by women, this information was what made the audience sit up and ask questions.
Now granted, my audience was at this event because they already believed. Their job was to convince others higher up within their organization.
But what if the data and the stories don't convince executives in your company to support a diversity initiative?
Perhaps connecting them with the executives at some of these newly-minted organizations – 45+ at Paradigm for Parity, 1000+ CEO Action for Diversity & Inclusion, or the 80 who have signed the Tech Inclusion Pledge, to name just a few – where scores of male and female executives have pledged to make diversity a priority for their companies, will help to change their mind.
Or better yet – contact me. Every day I help companies find the solutions they need to close their leadership gender gap – and to convince their senior executives why it matters. That's my story.
Lead ON!
Kelly
Kelly Lockwood Primus
SVP, Strategic Client Solutions