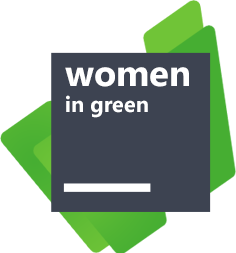 Last year, Leading Women partnered with the data storage and protection company Veeam to launch their initiative Women in Green (WIG). WIG invests in time, resources, and networking opportunities for their female work population. Mentoring is one of the components of the WIG initiative — and, most importantly, it's one of the elements of diversity and inclusion initiatives that actually works. Here's the story:
As a company in the technology sector, you might not expect Veeam to be extraordinarily woman-centric. After all, the industry gets a bad rap for being, as the Atlantic put it earlier this year, "awful to women." But Veeam is striving to be a billion-dollar company — and their executives know that they can't achieve that goal unless everyone at the company is contributing.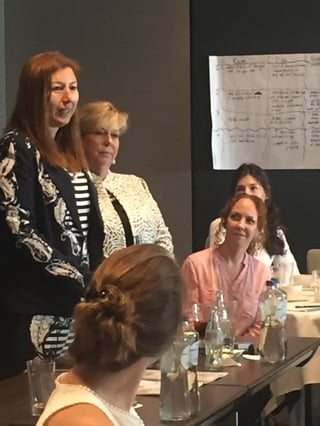 When Debbie Moon, Director, Global Alliances – Cloud, joined Veeam in 2014, she was coming over from an organization with an established women's career program — one that had actually benefited Debbie herself greatly. When she floated the idea of establishing a similar program at Veeam to their Chief Human Resources Officer, Funda Saltuk, her proposal was met with enthusiastic support. Veeam was young, hungry, and growing fast, and knew that old-school ideas of all-male leadership would hinder the sort of vibrant growth that was their goal.
Debbie and her co-chair Dorothy Farris, Veeam's VP of Sales for North America, decided to dub their initiative Women in Green, a reference to Veeam's bold green logo and branding. It would be a formal development program for high-potential women within Veeam who were looking to strengthen leadership in their current role and open opportunities for advancement within the organization.
Teaming up for success
Veeam had already established a core team, but none of them had led an initiative like this before. Guided by Saltuk, who had worked with Leading Women at a prior company, they worked with Susan Colantuono and Kelly Primus of Leading Women to provide the guidance, structure, and ideation that Women in Green required.
"Susan and Kelly really became my coaches," Moon says. "They helped me with the initial ideas and how to get organized."
Leading Women designed a program that included a leadership development component; women who had their managers' support had to apply to this component, and WIG then chose 30 women from the applicants. These became the "First 30," as they called them.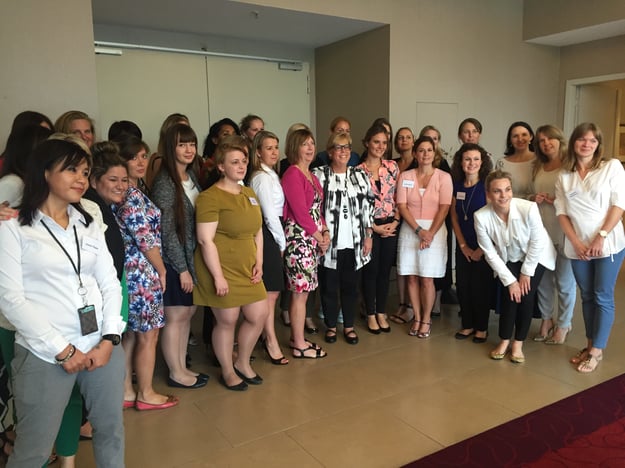 To kick off the program in August 2016, Leading Women led a day-and-a-half long seminar for the First 30 centered around the question, "How can I be a stronger leader and contributor to Veeam's success?" This began twelve subsequent months of career development which included pairing the First 30 women with mentors (both women and men). Paired on the basis of fit between the participant's development goals and the mentor's strengths, the mentors were also trained by Leading Women in the difference between CAKE Mentoring™ and PIE Mentoring™. This framework ensures that women are able to make the most of their mentoring relationships and frees mentors to deliver mentoring that makes a positive difference to both the company and the protege.
The core WIG team also set up ongoing webinars tailored toward women (though these were open to all Veeam employees) and a robust website full of reference materials. They also brought in speakers, both external and internal, not simply to provide instruction, but to help these women see what they might become.
Changing lives and leadership
Both Veeam and Leading Women knew the program was working when they saw the First 30's ongoing commitment to leadership development — not just with their mentors, but also with each other. As the first round of Women in Green drew to a close, the First 30 conducted a webinar during which they talked about the benefits of the program in order to solicit the next class. For Debbie, it was powerful to hear them talk about the benefits they'd seen from the program she had initiated.
"Now that the official part of the program is over for me, I feel like I'm a completely different person… this program changed my life," says Olga Vorobeva-Vitova, Senior Manager of Sales Acceleration Operations. "I've learned that leadership isn't only about being a leader in your heart but it is also how you show your leadership skills… [this is] just the beginning of a long and very exciting journey for me."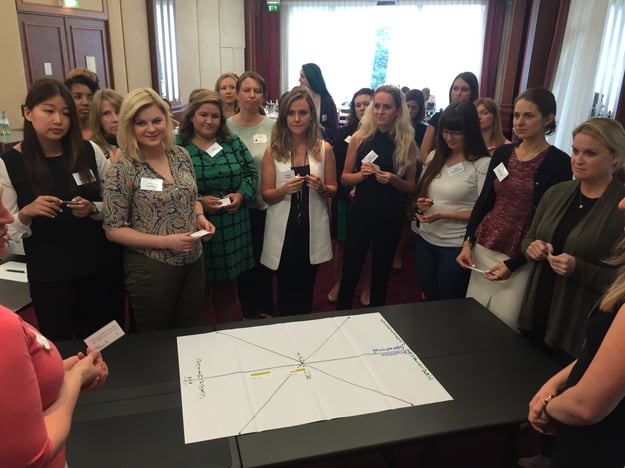 Veeam and Leading Women were gratified to see enthusiastic responses like Olga's after the first round of Women in Green was completed. As of this writing, many of those thirty women have already been promoted; in a follow-up survey, mentors and managers overwhelmingly reported great leadership development from their mentees. 91.7% of participants showed development in behaviors that weren't their strengths prior to joining the program. (The other 8.3% were already strong in all the covered areas.) 66.7% of the participants demonstrated a "clearer understanding of what's required to lead" and were taking action in order to lead better. A staggering 100% of them were seen taking action to "enhance [their] business, strategic, and financial acumen."
Managers and mentors raved about the changes they saw in the First 30.
"Kate has used this year in the WIG program to become more confident as a manager and a businesswoman," wrote one. "She has stretched herself both mentally and professionally and is now a stronger, more decisive and inspiring leader demonstrating business acumen beyond her years!"
The importance of business acumen was a frequent theme; another mentor noted that
"Not only is Andrea more confident, she also is more aware of the big picture and the importance of knowing and seeking clarity on what her core contribution can be. She is now able to translate how her contribution impacts the whole and therefore can better prioritize those things that have the greatest impact."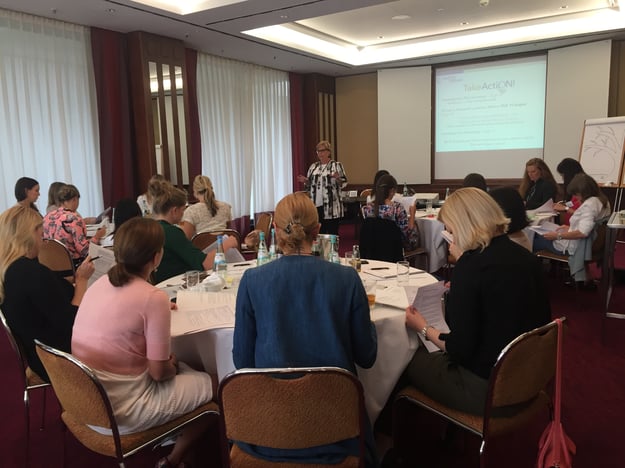 The payoff of WIG has been so powerful that it retains the very active support and involvement of the executive team. For proof, you need look no farther than the WIG kickoff video, where you'll see appearances from Bill Largent, Chairman of the Finance and Compensation Committees and Ratmir Timashev, Co-Founder — who noted that he wanted Veeam to be the best place in the industry for women to work. These and other male executives have been attending events, creating opportunities for the WIG women to network with higher-ups, and generally walking the equality walk.
Despite what tech-world stereotypes would have you believe, "Launching programs that contribute to our values and culture are critical to Veeam's success," says Saltuk, who supported the initiative from day one. "We are very excited about what we have accomplished over the past year and will expand our outreach to other companies as we share experiences and learn best practices, recognizing diversity as one of the strongest foundations of Veeam culture."