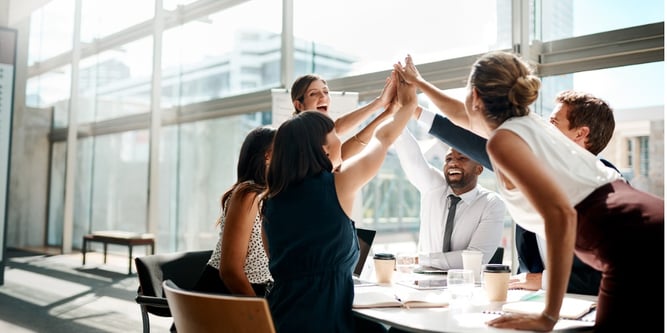 The Great Resignation, the Big Quit, the Talent Shortage—you can call it whatever you want. The reality is that the war for talent is a fierce competition and likely raging in your organization.
The Bureau of Labor Statistics reports that unemployment in March 2022 hit 3.6% in the U.S. For organizations that are trying to grow, or that recognize they need to hire a significant number of employees to do so, this puts them in a difficult situation. For instance, networking hardware giant Cisco Systems reports it's planning on hiring 5,000 employees this year in order to grow. Imagine having that challenge.
A recent article by People Matters on how to win the war for talent in 2022, notes that "identifying quality talent is not difficult but requires a considerable amount of time, money, and effort." The article goes on to say that "job seekers expect a consumer-like experience and human touch to nurture their journey."
The battle for talent at every level can be a costly one. The constant churn of hiring, onboarding and resigning is resource-draining and expensive. According to Gallup, an organization of 100 employees can expect replacement costs to be between $660,000 to $2.6 million annually. Is your organization prepared for that kind of hit to your bottom line?
Training Industry says to survive the Big Quit, "It's not just about finding the right talent. It's about keeping the talent you have." Winning the war for talent will require organizations to be creative about how they recruit, retain and reskill people—with an imperative to unite employees behind a reinvigorated, reinvented purpose. Case in point, Korn Ferry surveyed nearly 700 professionals and found that "almost one-third (31%) said they were thinking of leaving their job even though they didn't have another one lined up." This fuels the battle for talent.
What can you do to win talent in a competitive market?
There have been many reports of organizations offering all sorts of incentives to attract new talent, including higher salaries, sign-on bonuses for entry-level positions, stock options, caregiver stipends, increased benefits and more. While these incentives may make a job more attractive in the short term, the cost of consistently increasing the benefits offered to employees might not be sustainable in the long term.When I talk to clients who are looking for guidance on how to recruit and retain the best talent for their organization, I always ask them questions about the culture of their organization and how inclusive it is. Why? Because having an inclusive organization creates a sense of belonging that employees want to be part of.
Ask yourself this: What was the best company you ever worked for, and what was it about that company that made it the best? I'm willing to bet the answer was the culture. A Glassdoor workplace survey on diversity and inclusion revealed that "76% of job seekers and employees today report that a diverse workforce is an important factor when evaluating companies and job offers."
When my organization's diversity and inclusion think tank conducted its research on the effects of cultural dynamics in the workplace, we found that most employees believe their organization should be investing in DEI. We also found that employees are willing to leave their current roles for an organization that demonstrates greater inclusion, with respondents citing DEI as important for recruitment, retention and the financial success of the business.
If a company isn't working on making its culture inclusive, it will likely never win the war for talent.
For HR leaders that are trying to grow the size of their workforce or retain talent, it's important to take a look at your internal talent and who the talent is. Is your talent diverse enough? Are you developing your underrepresented talent? If not, you must work on changing that.
For organizations to ensure they are on the right path toward a more inclusive company culture, HR practitioners must first change the mindset of leadership, who could be unknowingly undermining their own DEI efforts. It is important to understand the necessity of active involvement by leadership—HR leaders shouldn't be relegating inclusion work to an ERG or other internal resource. Leaders must also demonstrate inclusive behaviors with an "all-in" approach, showing a true commitment to inclusion. Some ways to do this include inviting diverse employees to meetings and engaging with them, asking for their perspectives. Seek out their input and consider how you might be able to incorporate their ideas and perspectives, which likely were gained from experiences different than yours. Make them feel included. Surround yourself with people who are different from you. After all, it's well known that having diverse teams yields better results to your bottom line.
HR leaders can champion DEI by first implementing a cultural assessment to understand how the employee base experiences the organization. This gives you the baseline to drive the culture work you need to. Then, make sure the leadership team is ready to do the necessary work that goes into building an inclusive culture. It's critical to have their total support. Lastly, balance equity for all employees by assessing your current policies and procedures. A review of job listings, mentoring programs, development opportunities, etc. to ensure the language and programs are focused on all employees, not just some, is integral to creating a culture of inclusion.
The harsh reality is that employees are leaving organizations in droves even if they're getting more money and benefits. They want to feel like they belong or that they have opportunities. In other words, they don't think the culture of the organization is doing enough to make them feel like a valued employee and person.
One of my favorite quotes often attributed to Peter Drucker, is, "Culture eats strategy for breakfast." I couldn't agree more. If your organization isn't addressing its culture, it doesn't matter what else you do or how many incentives you offer—you'll continue to lose the talent battle. But with an inclusive culture, everyone wins.
--

This article was originally written for the Forbes Human Resources Council, and published on the Forbes website in April 2022. You can see Kelly Lockwood Primus' other Forbes articles on her author page.