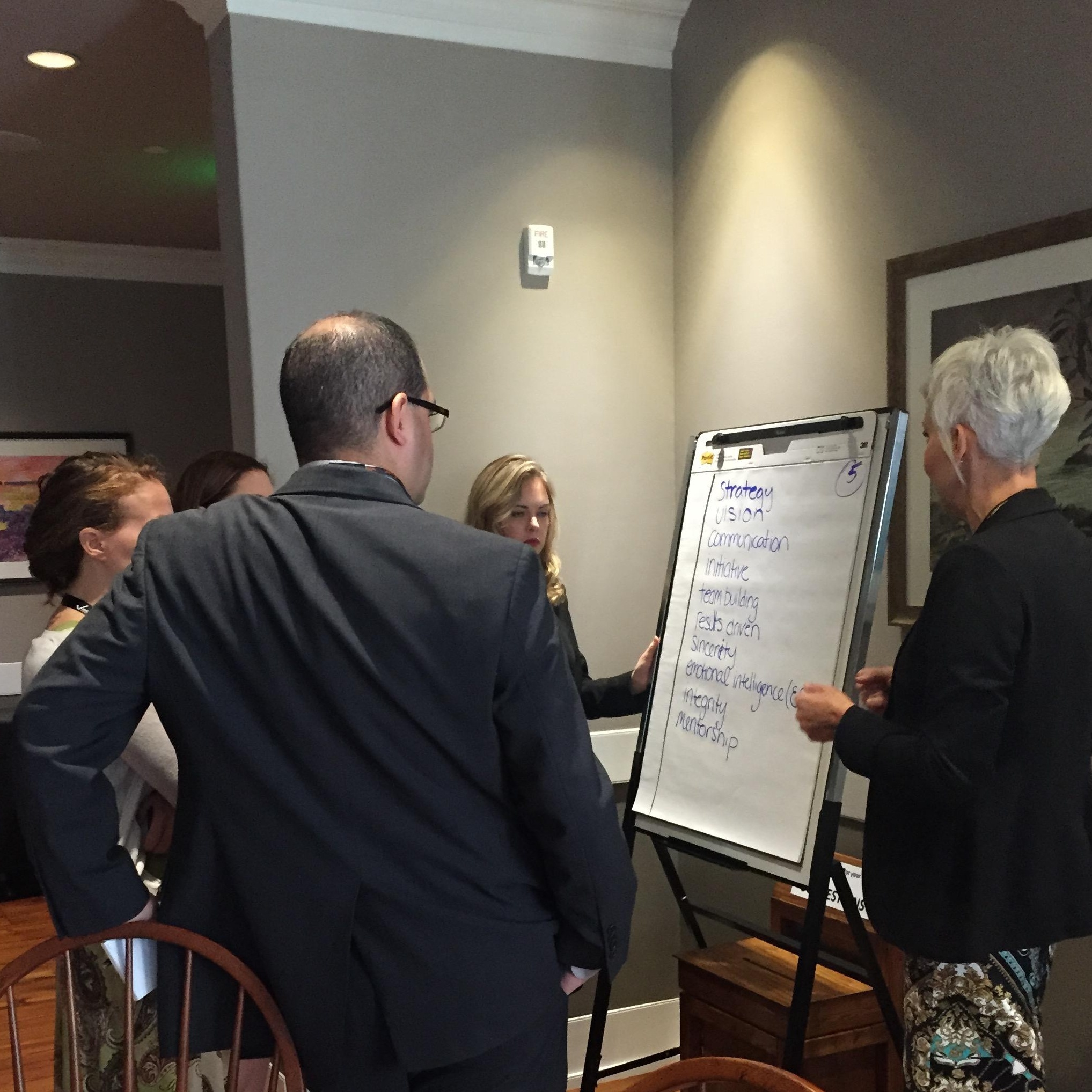 This blog is a departure in this way. Because it is a capstone for one of our Reverse Mentoring programs, it is a compilation of articles written by women and men on what it takes to be a great male ally for women in STEM. And rather than focus on who male allies are, the positions they hold or an academic definition of the term "male ally," here we focus on what male allies (and others) do to support the creation of level playing fields for women (especially those in STEM).
How to Recognize Allies
Marie Wieck was recently recognized as the STEM Champion for Women and Girls by the National Association for Female Executives. Her 5 Ways to Recognize a Male Ally include:
He asks, and doesn't assume he knows what a woman wants in her career or her next assignment.
He actively listens and acknowledges women's contributions to the discussion, making sure her voice is heard.
He provides straight talk by evaluating all team members based on results, and he is not afraid to give tough, specific feedback to women, so they can grow to their full potential.
He takes risks and puts women into stretch assignments, team leader positions, and profit and loss roles, so she can develop key skills and be the visible role model others need.
He looks for blind spots and challenges organizational thinking by looking for unconscious bias and calling it out.
And because not all managers/executives who are in positions to be allies are men, she also offers ally-actions that mark women (including those in leadership) as allies:
She gives back by sponsoring and mentoring women and girls, inspiring them to be bold and pursue a STEM career.
She breaks stereotypes by supporting and encouraging the use of new technology in education or business.
She supports other women, helping with contacts, skills, an occasional pat on the back, and she ensures their collective voice is heard.
She tackles the uncomfortable truths she may hear about how another woman is perceived, and either challenges the biases or shares the feedback with the woman so she can fix what she may not know about.
She isn't afraid to get her hands dirty, and she encourages others to do the same. Because markets and tech are moving so quickly, she tries new things and might call herself a maker, inventor, entrepreneur or problem solver, but she is already a STEM Champion.
Being a Male Ally
Starting on page 36 of the Women in Technology report Male Advocates and Allies: Promoting Gender Diversity in Technology Workplaces is this list of 10 actions that constitute those of male allies:
Listen to women's experiences
Raise awareness of other men
Seek out ways to recruit women
Increase visibility and number of women leaders
Mentor and sponsor women
Notice and correct microinequities and instances of bias
Establish accountability metrics for diversity
Model alternative work-life strategies and encourage use of existing policies
Make discussions of gender less "risky"
Work with formal and informal women's groups
The discussions about each of these are well worth reading.
If you don't know what microinequities are, this Diversity Woman article offers these examples:
Checking emails or texting during a face-to-face conversation
Consistently mispronouncing a person's name
Interrupting a person mid-sentence
Making eye contact only with men while talking to a group containing both men and women
Taking more questions from men than women
Confusing a person of a certain ethnicity with another person of the same ethnicity
Rolling the eyes
Mentioning the achievements of some people at a meeting but not others whose achievements are equally relevant
How do Men Measure Up?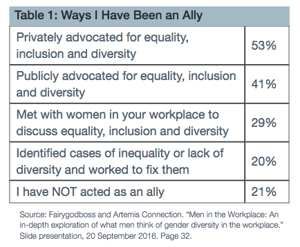 A study by Bentley University's Center for Women and Business discovered that over half of the men surveyed have privately acted as an ally for women/a woman.
The appendix has a robust list of further articles including the classic Catalyst article that covers many of the above actions in its list of 29. Their advice is that if you take action on 10 of the behaviors, you will continue to make a difference.
Is your organization ready to support women and build management allies? Leading Women has an arsenal of interventions that addresses Gender Dynamics, including Reverse Mentoring programs designed to develop Management Allies. Contact us for more information about Reverse Mentoring and other initiatives Leading Women offer.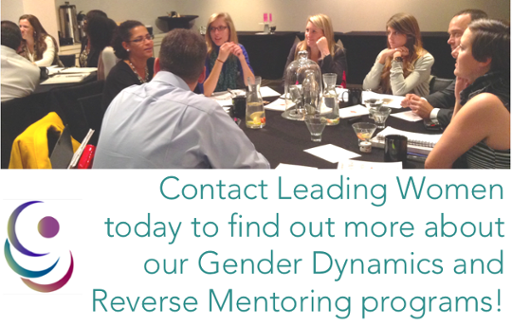 Lead ON!
Your Team @ Leading Women