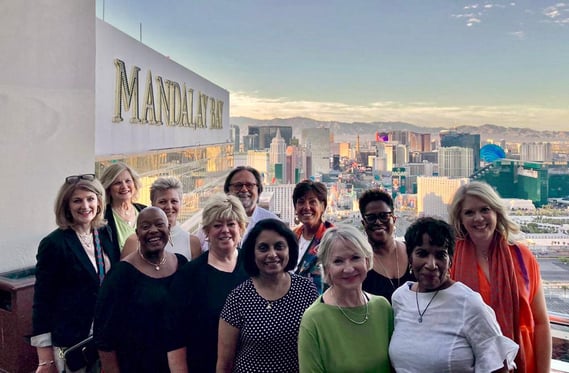 It's a wrap! After delivering 22 of our best-in-class leadership workshops to a sold-out crowd at the #1 ranked women's leadership conference in Las Vegas, the early reviews by participants of our sessions rated them, in a word, spectacular. We couldn't be more delighted to share that our amazing team delivered all of the skill-building workshops at WLC 2023, spanning three tracks of learning to over 1000+ attendees, with overwhelmingly positive accolades!
That's not all. As the workshop content-provider for WLC, and other industry associations, organizations and events, Leading NOW has earned a beyond-exceptional 78 Net Promoter Score (NPS), the gold standard of customer experience metrics, for our world-class content and delivery. Not only that, 96% say our facilitators are the best! We heartily agree.
Participants at our clients' industry events experience exceptional learning opportunities utilizing Leading NOW's timely workshop topics that provide clear takeaways which can be immediately put into practice back at work.
Topics like these… just to name a few:
Managing Complexity
Building Resilience
Cultivating a Culture of Accountability
Creating a Culture of Innovation
The strength and depth of our research-based content, leadership programming, and skill-building workshops make us the best partner for organizations in ANY industry.
And as if that's not enough, our CEO shares her insights on Accountability in her latest Forbes article, Are you Holding Yourself and Your Team Accountable in the Right Way? It's a must-read.
We simply couldn't wait to share this exciting update with you!
If your organization is in need of a world-class skill-building content-provider for your next conference or event, it's time to partner with Leading NOW. Our team is the best around, and we can customize our content to fit your needs. Contact us today for a free consultation.