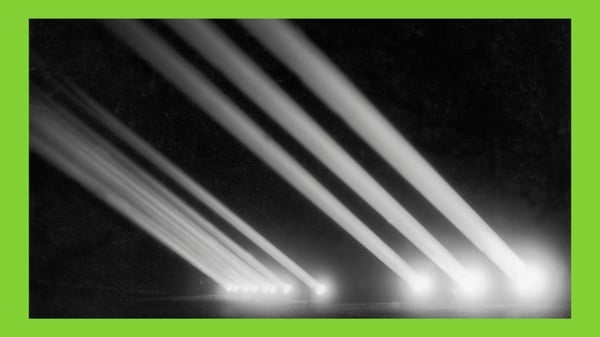 This blog was written by Michelle Redfern, Strategic Partner and Senior Consultant based in Melbourne, Australia, and was originally published on her blog.
---
I am taking a leaf out of the Grace Tame playbook to shine a light on disrespect towards women in the workplace. Grace has been an inspiration to me. She is a fearless advocate for women and survivors of sexual violence and has spoken frankly about how we must shine a light on the perpetrators of sexual abuse.
When I hear women's stories about being disrespected, harassed and mistreated in workplaces, I feel sadness, frustration, empathy (I am not immune from harassment and discrimination) anger and determination. Determination because I am determined to keep doing what I can to shine a light on disrespect towards women in the workplace.
SHINE A LIGHT ON DISRESPECT
Women tell me their workplace experiences of disrespect, harassment, discrimination and violence. They tell me their stories because they trust me and they want to shine a light on their experience. They want help to navigate these situations. When I am listening, I know that there is solidarity amongst the many of us with these shared experiences.
But it is not enough. It is time to shine the light on disrespect towards women in a different direction. Here are 3 key steps for workplace leaders to consider:
1. SHINE THE LIGHT IN A DIFFERENT DIRECTION
The light has been shone at and on women when it comes to gender equality, safety and the experiences women endure in many workplaces for far too long. Like most women, my entire life has been focused on keeping safe. Not walking alone at night. Having keys in hand as a potential weapon against an attacker. Learning how to physically defend myself as a young woman. Using the block function on social media (regularly!)
My male peers have NOT been taught, to the same extent, how to STOP being disrespectful to women. How to NOT attack women. How to NOT belittle and harass women. They simply haven't been expressly educated about what they must NOT do. The burden to be respected has always been on women. So the light is shining the wrong way!
EDUCATE BOYS AND MEN, FORMALLY AND INFORMALLY ABOUT RESPECT FOR GIRLS AND WOMEN.
2. LEADERSHIP MUST SHINE (THE LIGHT)
Workplace leaders must shine a light on both good AND bad behaviour. Disrespectful behaviour towards women must be identified, talked about and have consequences for perpetrators, enablers and accomplices. Bad behaviour in the workplace can look and sound like this:
interrupting, talking over or ignoring women in face-to-face and virtual meetings
assuming women, regardless of their role, will pick up the slack in tasks such as taking minutes, coffee runs, and tidying the office kitchen
implying women don't have the leadership skills to manage difficult workplace situations
making sexist or looks-based comments about women co-workers
attempting to silence women or dismiss their viewpoints by not inviting them to meetings or leaving them off email chains.
Source: Our Watch
It is no longer enough for organisations to have a workplace Code of Conduct policy, a Diversity and Inclusion policy and to tell men not to harass women. More must be done to show men and others what not to do and then how to intervene.
EDUCATE EMPLOYEES ABOUT WHAT DISRESPECT TOWARDS WOMEN IS, WHAT THE CONSEQUENCES ARE AND WHAT TO DO ABOUT IT IF IT HAPPENS.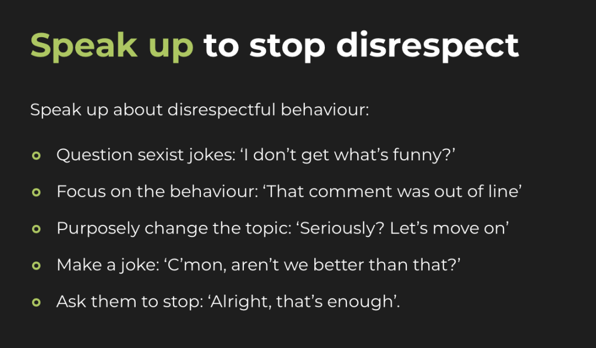 3. SHOW ME HOW TO SHINE
Leaders must go beyond policy. They must also define what good behaviour looks like, show people how role model that behaviour and recognises it when it happens. Develop a culture of allyship towards women that goes beyond a celebration once a year for International Women's Day. Set the bar high(er) for the organisation's treatment of women in the workplace.
Give all employees access to tools, techniques and resources so that can become better educated about workplace gender equality. Help them learn how debilitating gender inequality is for women. Help them learn about how everybody wins when she wins. Publicly acknowledge good behaviour by men towards women. Elevate and amplify women voices in the organisation.
GO BEYOND POLICY. SHOW EMPLOYEES WHAT GREAT BEHAVIOUR LOOKS LIKE, DON'T JUST TELL THEM.
ARE YOU AN ACCOMPLICE TO DISRESPECT?
Finally, a question for all of us to answer. Are you an accomplice to disrespect towards women at work?
If you stand by, ignore or fail to deal with disrespect towards women in your workplace, then your answer must be yes. As the folks at Our Watch (rightly) say, doing nothing does harm. And as Grace Tame, the inspiration for my post says "It all starts with a conversation" and that conversation, which starts at the top, must include shining a light on disrespect towards women.
FURTHER RESOURCES
---
Learn more about Leading NOW's strategic partnership with Advancing Women in Business & Sport here.