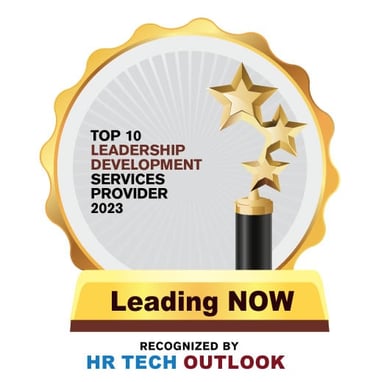 BOSTON, MA – May 2, 2023 – Leading NOW, a global consultancy that provides customized leadership development solutions, is pleased to announce it has been recognized by HR Tech Outlook as a Top 10 Leadership Development Services Provider for 2023, and featured among an elite group of companies in the Leadership Development special edition of HR Tech Outlook magazine.
"We are proud to make the Top 10 list, and to be recognized for the work we do every day to help organizations develop their current and future leaders," said Kelly Lockwood Primus, CEO, Leading NOW. "Our business-centric leadership development programs are based on our proprietary research and influenced by our global business perspective. As a team of business people, clients choose to work with us because we bring a unique combination of expertise across multiple industries together with a passion for driving business outcomes."
HR Tech Outlook's Top 10 List features companies nominated by their subscribers as companies they believe have the resources and solutions for Leadership Development they would recommend to peers. The vetting process includes hundreds of nominations who are evaluated on Core Competency, Business Model, Product/Service Capabilities and other criteria. The companies are further evaluated by a panel of industry insiders and HR Tech's Editorial Board to determine the Top 10.
Leading NOW's customized programs utilize our proprietary research on Cultural Dynamics in the Workplace™ and The Missing 33%™. With a focus on supporting talent to be confidently placed into succession plans for leadership and executive roles, our programs layer business, strategic, and financial acumen on top of skills for personal greatness and engaging others.
To learn more about Leading NOW's award-winning Leadership Development programs, visit https://www.leadingnow.biz/leadership-talent-development.
About Leading NOW
Leading NOW guides current and future leaders in creating more equitable organizations. We focus on building cultures of inclusion, developing inclusive leaders, and preparing underrepresented talent for career advancement. A global team of experienced business people, we solve the problems businesses face. Our research-based DEI solutions transform leaders' mindsets and behaviors to be inclusive for all. And, our uniquely customized leadership development programs are highly engaging and experiential to help build a pipeline of future leaders for your organization. As recognized experts, we work alongside you–joining you at any stage of your DEI journey–to drive immediate and sustainable outcomes for your organization. We have a strong track record of success spanning nearly 20 years, working with a wide range of organizations and industries around the world. Leading NOW is defining the future of inclusive leadership for the 21st Century. For more information, visit www.LeadingNOW.biz. #FutureForward #WeCanHelp
Leading NOW is a certified women-owned business.

Contact:
Diane Chaput
VP Communications & Engagement
Leading NOW
diane.chaput@leadingnow.biz
+1 508-341-7352
Related Link: https://www.prlog.org/12962720-leading-now-named-top-10-leadership-development-services-provider-by-hr-tech-outlook.html