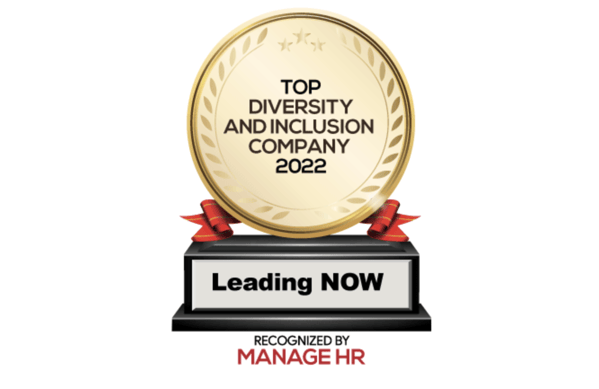 BOSTON, MA – April 21, 2020
Leading NOW, a global consultancy that guides current and future leaders in creating more equitable organizations, is honored to announce it has been recognized by Manage HR magazine as a Top 20 Diversity and Inclusion Company for 2022.
The Top 20 is comprised of an elite list of D&I companies nominated by subscribers as companies they believe are at the forefront of providing DEI solutions/services they would recommend to their peers. Finalists were further evaluated by Manage HR's editorial board and a panel of HR leaders to name the Top 20.
"We are grateful to make the Top 20 list, and thrilled to learn that the proprietary research we released last year on Cultural Dynamics in the Workplace™, and the resulting creation of our unique Inclusive Culture Assessment currently being used by our global clients today, were key factors for receiving this recognition," said Kelly Lockwood Primus, CEO, Leading NOW.
Leading NOW works alongside organizations, wherever they are in their DEI journey, to build cultures of inclusion, develop inclusive leaders, and prepare underrepresented talent for career advancement. We utilize research-based DEI solutions that transform leaders' mindsets and behaviors to be inclusive for all through customized leadership development programs that are highly engaging and experiential. "We are business people who are passionate about solving the problems businesses face, and our programs drive immediate and sustainable outcomes for organizations of all sizes," says Primus.
To request a copy of our latest research on Cultural Dynamics in the Workplace™: 5 Key Factors in Driving Successful DEI Initiatives to Achieve Business Results, click here.
For more information about Leading NOW's award-winning Diversity & Inclusion services and how we help organizations achieve their DEI goals, visit the Top 20 at Manage HR.

ABOUT LEADING NOW
Leading NOW guides current and future leaders in creating more equitable organizations. We focus on building cultures of inclusion, developing inclusive leaders, and preparing underrepresented talent for career advancement. A global team of experienced business people, we solve the problems businesses face. Our research-based DEI solutions transform leaders' mindsets and behaviors to be inclusive for all. And, our uniquely customized leadership development programs are highly engaging and experiential to help build a pipeline of future leaders for your organization. As recognized experts, we work alongside you–joining you at any stage of your DEI journey–to drive immediate and sustainable outcomes for your organization. We have a strong track record of success spanning nearly 20 years, working with a wide range of organizations and industries around the world. Leading NOW is defining the future of inclusive leadership for the 21st Century. For more information, visit www.LeadingNOW.biz. #FutureForward #WeCanHelp
Leading NOW is a certified women-owned business
Contact:
Diane Chaput
VP Communications & Engagement
Leading NOW
diane.chaput@leadingnow.biz
+1 508-341-7352
Related Link: https://www.prlog.org/12914115-leading-now-named-top-20-diversity-and-inclusion-company-by-manage-hr.html