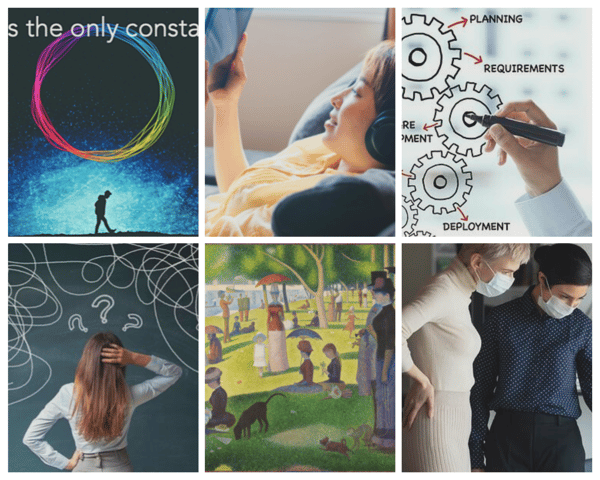 A year ago, when Covid-19 changed all of our lives in so many ways, Leading NOW's CEO summed up how most of us were feeling with a quote from Greek philosopher, Heraclitus –– "Change is the only constant in life."
Her blog post, Leadership at the pace of Global Change, kicked off a 6-part series on how to deal with change when things are volatile, uncertain, complex, and ambiguous (VUCA).
Below, we share a recap of the entire "change" series to help you keep up with the constantly changing world we live in. If you missed the series the first time around, now is your chance to catch up, with tips that will help you lead, manage and navigate during these VUCA times.
Read ON!
Part 1:
LEADERSHIP at the pace of Global Change...

One of my favorite quotes is from a Greek philosopher, Heraclitus, who said "Change is the only constant in life."
I've been thinking about the pace of Change for months now. I see Change happening at our clients' organizations and I see the toll it is taking on their employees. And, I have been asking the question: "How do you lead in the face of constant change?" ...
Part 2:
Interpersonal Savvy... What You Need to Lead!

So, today we wanted to share with you info on the leadership competency:
Interpersonal Savvy.
Interpersonal Savvy is "relating well with all kinds of people - inside and outside of the organization, building support, relationships, using diplomacy & defusing high tension situations."
We are starting with a focus on this competency -- because let's face it -- while we may be settled in and accepting of the reality of this current crisis, there is no doubt we are stressed, grieving, and operating in the midst of so many unknowns. And this can have a significant impact on how you are relating to the people in your organization (and home too) in any of the following ways: ...
Part 3:
Organizational Agility: Getting "It" Done

Can you think of someone on your team, or in your life, who is a master at this? That person who always seems to be 5 steps ahead of everyone else? It's not that they have superhuman - powers that you don't -- it's called organizational agility, which is a common trait found in most of the best leaders in the world.
These types of leaders are essential -- especially in an environment of constant change -- because often there isn't a playbook. Or even when there is, success depends on the strength of the relationships that have been established through consistent development and nurturing of formal and informal strategic networks (colleagues & teammates, or external networks & vendors). These leaders know the business, inside and out. Everything from how the organization is structured, to the potential P&L impact related to the change underway. They are innovative and ready to adapt in order to think and act differently, to get "it" done. In summary: ...
Part 4:
Leading Through Uncertainty: Dealing with Ambiguity

Uncertainty -- hmmmm -- sound familiar? We are surrounded by so many uncertainties right now! However, we know that not all ambiguity is environmental. Ambiguity comes in several forms in the workplace. The issue arises from a lack of direction and clearly defined roles. The problem can result from the business itself or from specific managers who fail to implement the direction and roles associated with their job. It can also be cultural, or a product of barriers in understanding inclusive behaviors.
Leaders who are able to deal with ambiguity can effectively cope with change, shift gears comfortably, decide and act without having the total picture, and are able to navigate risk and uncertainty. Those with a strong ability to deal with ambiguity are often described as adaptable, flexible, and comfortable with uncertainty. They can operate with confidence to make decisions or move forward, even without all the information, because they have built their understanding of the business (acumen) and are confident in taking a calculated risk (See Leading Women's infographic on confidence)...
Part 5:
Managing Complexity: The Up Close & Wider View

With so many colors of spring around us, we were inspired to take a colorful and artistic approach to our discussion of this leadership competency. Take a look at the painting above - A Sunday Afternoon on the Island of La Grande Jatte by Georges-Pierre Seurat. Or imagine any of the famous impressionist works of Monet, Cassat, Renoir or Degas. When you are up close to any one of these paintings (most often of an ordinary subject matter or scene), you will notice the detailed intricacies of the color palette and brush stroke textures. However the colors, strokes and masterful composition can't be understood or fully appreciated unless you step back from the painting to see how each of these detailed elements come together to create the entire scene. And when you then step closer to the art again, you gain an even better understanding and appreciation of the complexity of the masterpiece.
Part 6:
Navigating Change with Resiliency

This is the final post in our current blog series on the core leadership competencies needed to navigate an environment of constant change. So far, we've looked at what it means to demonstrate Interpersonal Savvy, Organizational Agility, Dealing with Ambiguity, and Managing Complexity. And today, we'll conclude with a look at "Resiliency" -- appropriately so, given the change we are collectively navigating across our world.
When we began this series back in March [2020], it was just days after International Women's Day and during the first moments when the reality of the current Covid-19 crisis was becoming clear. And here we are today, globally still navigating change -- one where the power and strength of resiliency has become abundantly clear. Whether we've seen this through the visible and heroic demonstrations by essential workers on the front lines of the crisis in healthcare, public safety, education and food services -- or a version that is less visible because it's happening inside each of our homes as we adjust and navigate work, family, connection, and our physical & mental well-being while in quarantine. Resilience is most certainly essential.
..Read ON!