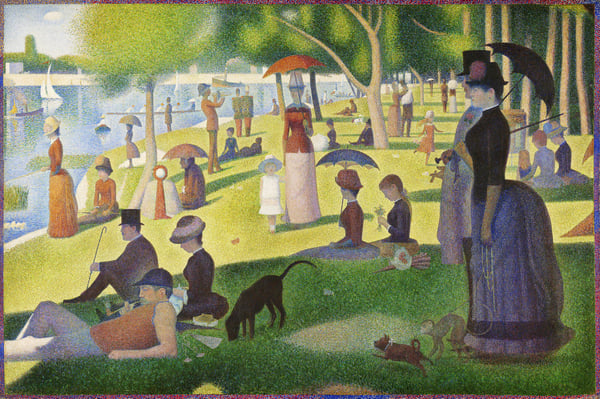 We are continuing our series on the core leadership competencies needed to navigate an environment of constant change. Change that is defined as volatile, uncertain, complex and ambiguous (VUCA). So far we've looked at Interpersonal Savvy, Organizational Agility and Dealing with Ambiguity. This week, we'll take a look at Managing Complexity, which we define as:
A focus on achieving results while minding multiple factors including ones like geography, risk, media attention, government regulation & diverse communities.
With so many colors of spring around us, we were inspired to take a colorful and artistic approach to our discussion of this leadership competency. Take a look at the painting above - A Sunday Afternoon on the Island of La Grande Jatte by Georges-Pierre Seurat. Or imagine any of the famous impressionist works of Monet, Cassat, Renoir or Degas. When you are up close to any one of these paintings (most often of an ordinary subject matter or scene), you will notice the detailed intricacies of the color palette and brush stroke textures. However the colors, strokes and masterful composition can't be understood or fully appreciated unless you step back from the painting to see how each of these detailed elements come together to create the entire scene. And when you then step closer to the art again, you gain an even better understanding and appreciation of the complexity of the masterpiece.
Like in art, when managing complexity, we must get up-close and take a wider view. And as leaders we must embody every element of Leading Women's definition of leadership -- Using the greatness in you to achieve and sustain extraordinary outcomes by engaging the greatness in others.
Our up-close view of any challenge, or complex situation, must first and foremost be grounded in our knowledge of the business. We must know how it all fits together - the structure, strategy, financials, regulations, customers and colleagues. Each of these elements, or levers, were designed to intricately and purposefully fit together. Therefore, when navigating change, your up-close understanding will equip you to know how each adjustment, tweak or change impacts the overall situation. Your ability to understand the complex details depends on your leadership strengths in Personal Greatness and Business/Strategic/Financial Acumen (The Missing 33%TM) elements of the Leading Women definition of leadership. This up close view depends on your personal skills, experience, knowledge, comfort in taking risks and drive for results.
When managing complexity, we must also remember to take a step back and look at the bigger picture. Taking a wider view allows us to consider the overall environment, potential risks, outside influences, and the people, resources and stakeholders who may be able to help with a solution. It often opens opportunities for innovation, inclusion, collaboration, and teamwork. Your willingness to take this view, and collaborate with those around you or those related to the situation demonstrates strength in the Engaging the Greatness of Others element of our definition of leadership. Your ability to recognize and invite others who may have different perspectives or answers to address whatever complexity you may be facing, demonstrates leadership that is both innovative and inclusive.
Let's remember to not always define complexity as a problem to be solved, but rather a masterpiece to value.
Lead ON!
Read ON!
Image: A Sunday on La Grande Jatte (1884) by Georges Seurat. Original from The Art Institute of Chicago.
Digitally enhanced by rawpixel