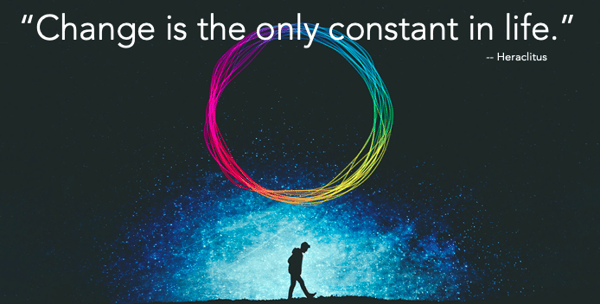 One of my favorite quotes is from a Greek philosopher, Heraclitus, who said "Change is the only constant in life."
I've been thinking about the pace of Change for months now. I see Change happening at our clients' organizations and I see the toll it is taking on their employees. And, I have been asking the question:
"How do you lead in the face of constant change?"
Leaders not only need to manage the Change in their organization they MUST also weigh the global impact of the Change in technology, politics, cultural shifts, multiple generations with different working styles, and even the effects of climate change into the decisions that they make. Sounds exhausting, doesn't it?
In order to provide solutions in our leadership development programs on leading Change, I started researching Change Management to understand how to help leaders manage the fatigue, frustration, and increasingly faster pace of decision making that Change brings.
But what is CHANGE… and what do you need to master in order to thrive as a leader?
CHANGE is:
Volatile, Uncertain, Complex and Ambiguous (VUCA)
Volatility: To be subjected to frequent, rapid and significant change
Uncertainty: Unclear and unpredictable
Complexity: Composed of multiple interconnected parts or factors
Ambiguity: Lack of clarity, open to multiple interpretations
As I prepared to deliver a presentation on Change in celebration of International Women's Day (March 8), I thought of examples I would use to demonstrate VUCA.
At the time, my example for Ambiguity was the Coronavirus.
It was March 1, and the WSJ reported that China had 80,026, Italy 1,701 and the US 75 reported cases of COVID-19. The impact of this disease was beginning to be felt globally, but no one had any idea what the results on global markets would be. Fast forward three weeks, China has basically stabilized at a total of 81,093, Italy has escalated to 63,198, and the US now has 42,163 reported cases. Markets have crashed, whole industries shut down, and countries have closed their borders.
Never would I have expected the volatility, uncertainty, complexity or ambiguity COVID-19 would cause.
Three weeks ago, my recommendation to leaders was to polish their competencies in:
Organizational Agility - getting "it" done through formal and informal processes;
Deal with Ambiguity - decide & act without having the entire picture;
Manage Complexity - focus on results but keep in mind factors such as geography, risk, media attention, government regulation, & diverse communities;
Interpersonal Savvy - relating well with all kinds of people - inside and outside of the organization, building support, relationships, using diplomacy & defusing high tension situations;
And finally, Resilience - modeling a "can-do" attitude & inspiring and motivating others to do the same - be optimistic, talk about the possibilities, and rally support behind the organization's vision.
Today, three weeks later, I will simply say this:
Leadership in the pace of CHANGE today,
has never been more necessary.
#Leadership #WeCanHelp #Coronavirus
The entire team at Leading Women sends our heartfelt prayers to all.
Today's post was written by Leading Women CEO, Kelly Lockwood Primus.
If you would like to talk more about how Leading Women can help your organization continue to build leaders, or if you would like to learn more about our virtual programs, we are all working from our homes, contact us!
Read ON!
Part 1: LEADERSHIP at the pace of Global Change...
Part 2: Interpersonal Savvy... What You Need to Lead!
Part 3: Organizational Agility: Getting "It" Done
Part 4: Leading Through Uncertainty: Dealing with Ambiguity
Part 5: Managing Complexity: The Up Close & Wider View
Part 6: Navigating Change with Resiliency