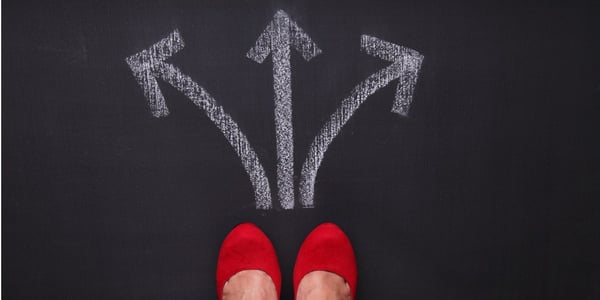 Wondering how you can navigate to the "new normal" when you're not even sure what the new normal is? Although you may not realize it, change is constant, and acknowledging this means you have actually taken the first step to the path forward. Leading Women, named a 2020 Top 10 Leadership Development Training/Coaching Company by HR Tech Outlook, put together the following list to help you navigate and emerge successfully as your organization transitions out of quarantine.
7 Ways to Help You Navigate to the New Normal


Remember that CHANGE is: Volatile, Uncertain, Complex and Ambiguous (VUCA)

Which makes a lot of people uncomfortable. Learn to embrace this and don't forget to weigh the global impact of change in technology, politics, cultural shifts, multiple generations with different working styles, and other factors as they relate to your organization and to the decisions you make.

What you receive may be raw and unfiltered, but can also provide tremendous insights that could improve your strategic relationships. Your leadership, through demonstrating a commitment to

personal development in the face of adversity, is sure to inspire those you work with.

This is where we at Leading Women can help! Our individual coaching sessions for you, or someone on your team, will provide an arsenal of tools to help develop not just interpersonal savviness, but many other leadership competencies as well.


Identify and take action to close your Missing 33%™

When determining whether a woman can lead the business, executives look for her ability to demonstrate business, strategic and financial acumen - we call this The Missing 33%. You can't demonstrate

organizational agility if you do not already have a firm foundation of the inner workings, goals, and operations of the business you are in. Make sure you know how things get done at your organization, and what it means to deliver results and achieve outcomes.


Look at mistakes or failures as opportunities to grow

Resiliency is more important than ever before. And despite your best efforts, mistakes will be made and failures will happen during this period of great change. The ability to assess what happened, own it, and then fix it, will be a vital skill set.


Take a step back and look at the bigger picture

Taking a wider view allows us to consider the overall environment, potential risks, outside influences, and the people, resources and stakeholders who may be able to help with a solution.

Complexity often opens opportunities for innovation, inclusion, collaboration, and teamwork.


Beware of stereotypes and improve Gender Dynamics

Being aware and shifting your mindsets related to the women, men, and leaders with whom you work will help you see and appreciate the inputs and ideas from those you are working with.



If you or your organization are looking to better equip your employees for the new normal and are interested in engaging in a timely, virtual and instructor-led Navigating Change program, contact us. #WeCanHelp.
Lead ON!