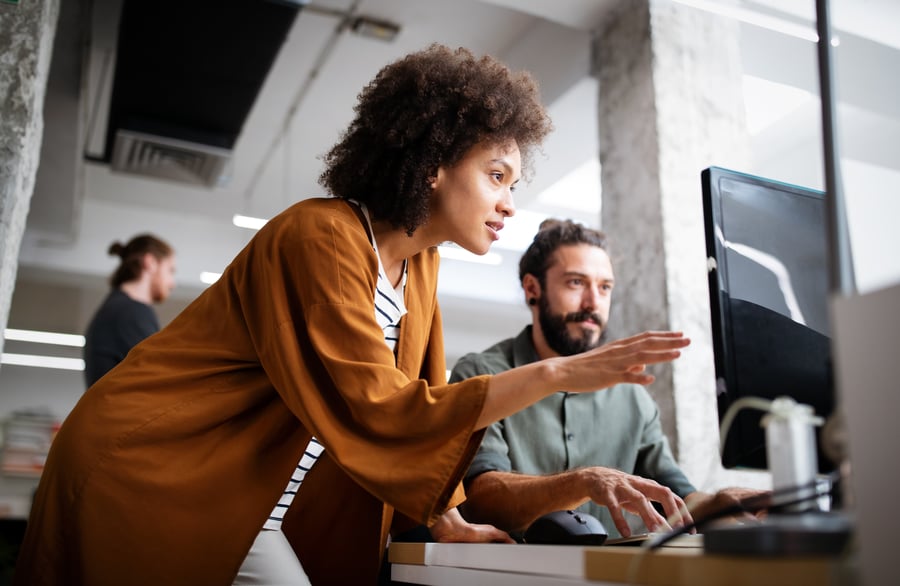 Is your organization doing enough to help underrepresented talent succeed? Probably not.
While most DEI initiatives include communication plans, programs for employees to attend, and reviews of corporate policies, one of the most important elements is frequently overlooked or not addressed at all: The mindsets of leaders within the organization and how they impede inclusion. And while these mindsets may be unintentional–after all, leaders don't have visibility into the challenges underrepresented talent face every day–this can derail your DEI goals.
To take your DEI strategy from passive to powerful, DO THIS, NOT THAT…
The Barrier:
Leaders' Inclusive Behaviors and Decisions.
Inclusive Leadership is a competency that needs to be developed in all leaders. Think about how leaders are behaving with different groups of employees within your organization. Who are they mentoring? Who do leaders seek out for advice, knowledge, input? Who is assigned to lead projects? All of these decisions are visible and can strongly influence the success of DEI initiatives.
Leaders need to understand how these decisions affect their underrepresented talent, and what they can do to help change how their employees experience the organization to be more inclusive.
To help solve for this barrier…
Do This, Not That:
DO give leaders visibility into the challenges faced by underrepresented talent by implementing a Reverse Mentoring program. Like traditional mentoring programs, Reverse mentoring pairs junior leaders with more senior leaders, but as the name suggests, the roles are reversed. The junior leader assumes the role of mentor, and the senior leader assumes the role of mentee.
DO NOT do generic unconscious bias training–it doesn't help and will not have a lasting impact.
Why? Most leaders already think they're inclusive.
Think of Reverse Mentoring as Diverse Mentoring. Our Collins Aerospace case study illustrates how a structured Reverse Mentoring program, based on Leading NOW's research on the mindsets that impact senior leaders' decisions, influences their actions, and lead to often unintended consequences, helped them embrace diverse perspectives.
The takeaway is that by asking leaders to spend time in a reverse mentoring relationship, it will give them the opportunity to spend time with underrepresented talent in a structured environment. It will give senior leaders visibility into the challenges more junior staff face, and it will give more junior leaders exposure to senior leaders, which is something that doesn't happen very often in most organizations. The investment will be so much better for the organization and the outcomes from it.
To turn your DEI strategy from PASSIVE to POWERFUL, and to learn more about how you can implement a structured Reverse Mentoring program into your strategy, contact us today. #WeCanHelp.
And check back monthly for our next installment of DO THIS, NOT THAT. We want to help keep you on track for building a true culture of inclusion.
---
DO THIS, NOT THAT
Part 1: For DEI Success, Do This, Not That In 2023
Part 2: DO THIS, NOT THAT - How Reverse Mentoring Leads to DEI Success
Part 3: DO THIS, NOT THAT - How Leaders Can Create a Psychologically Safe Workplace
Part 4: DO THIS, NOT THAT - How Investing In Leadership Development Leads To An Inclusive Culture
Part 5: Coming Soon