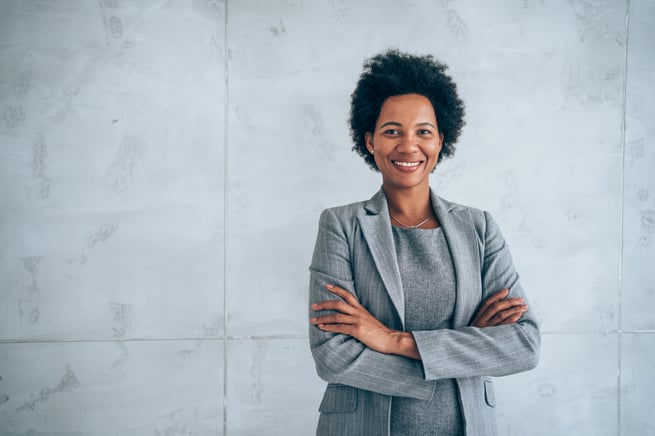 When we asked successful women leaders across all industries what they recommend organizations do to bring more women into senior leadership roles, a common thread from their responses emerged––diversity and inclusion is integral.
In part three of our Leadership Lessons from Women Leaders research series, we share their insights and suggestions, along with a few of our own.
LEADERSHIP LESSONS FROM WOMEN LEADERS:
The question we posed was:
What do you recommend an organization do to bring more women into senior leadership roles?
47% said organizations should VALUE DIVERSITY & INCLUSION
This group of women leaders felt orgs/CEOs have to have a vision to make diverse teams a cultural priority, demonstrate D&I through quantitative representation goals, put diverse succession planning and sponsorship programs into place, and be intentional with internal and external training & exposure. Equity/equality audits, clear goals, and authentic leadership around the value of diversity are part of the equation.
"Look at the pipeline of talent in the organization and see if women are among them. If not, bring talent in and pave the way for their success with mentors, advocates and sponsors. Make sure they have the resources to learn and grow."

-- Carin Stutz, President & CEO, Native Foods
29% said INVEST IN WOMEN
This group of women leaders recommend orgs hire more women in senior positions, stop using algorithms in the hiring process, provide women with more opportunities to express their talent so they can make lasting contributions, and ensure every open slate of candidates has a woman candidate. Investing in women includes: bringing in executive coaches to mentor, train, and guide; provide leadership training on hard (business) skills that many women lack; creating a women's organization to help mentor emerging leaders; developing women early in their careers to give them the skills they need to move into senior leadership roles.
"Start coaching female talent early and give broader roles and opportunities to stretch to show both the organization and the individual women that it can be done––should start much earlier than it does. Make sure that women in the organization learn the key leadership skills that are required, and start that process early. By the time women get to Director-level roles, gender equality starts to disappear."

-- Mary O'Broin, President Foodservice Sector, NPD
24% said BE OPEN TO DIFFERENT MANAGEMENT STYLES
This group of women leaders think organizations should source women from places that men don't hang out at, and be open to different interviewing and leadership styles than men. There tends to be a default towards a more masculine style (i.e., casual confidence, being sure they can overcome anything) vs. women who tend to underestimate themselves and demonstrate competence by doing rather than talking––gross generalizations, and not true of all men or women, but organizations should be willing to break the mold.
Based on the insights shared by these amazing women leaders, they strongly believe there should be more women in senior leadership roles. We couldn't agree more!
Did you know… Leading Women has been helping organizations close the leadership Gender Gap for almost two decades?
WOMEN PLAY A SIGNIFICANT ROLE IN ANY ORGANIZATION'S DEI GOALS
Diverse talent is underrepresented in organizations in virtually every industry––a situation that will not change until the playing field is level for all. To do this, organizations must remove the barriers facing diverse talent, and empower them with the tools and skills to help them succeed within the organization and move them along in their career.
In Part One of this blog series, we talked about our research and the 9 critical differentiators that must be mastered by diverse talent to move into senior and executive positions, aka, The Missing 33%™. This is the career advice most women never get, but must have to move them from the middle into senior and executive positions.
The women who participated in our survey all have the business, strategic, and financial acumen that have made them the successful leaders they are today. To level the playing field, and advance into senior leadership, we can't stress enough that ANY woman that aspires to be a leader must hone these skills.
Further research by Leading NOW's Center for Diversity & Inclusion also concludes that investing in diverse talent is, well, just plain good for business.
Leading NOW has the resources and programs to help you fill your pipeline with high potential women and diverse talent––and deliver successful outcomes for your business. Let us help you get started today. #FutureForward
---
Leadership Lessons from Women Leaders
Part 1: Research Concludes Mentors Are Key To Women's Career Success
Part 2: Does Your Leadership Have The Necessary Trait To Succeed?
Part 3: Women Business Leaders Offer Advice On Filling Your Pipeline With Female Talent
Part 4: Coming soon!